This article is more than 1 year old
Dell Inspiron Mini 9 with Vodafone HSDPA
The best netbook with integrated 3G goodness
You may have seen pictures of the 9 decked out in red and white, but currently the only colour available in the UK is black. However, it's a super swish piano black finish that looks fantastic. You'll need to ensure you've got a cloth handy at all times to keep it looking spotless as it's prone to picking up greasy finger marks.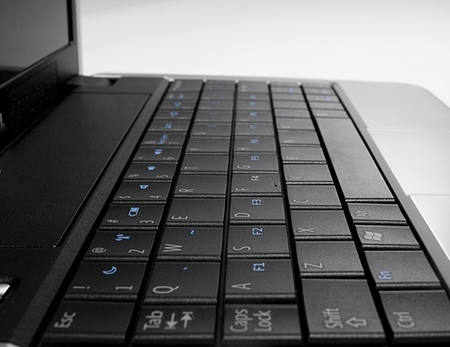 Cleverly designed keyboard - if you don't use Function keys
The lid slides down behind the main body of the machine when you open it up - similar to many netbooks - and there's the usual 0.3-megapixel webcam sat a top the screen.
Despite its small footprint, Dell has clearly spent some time trying to cram in as large a keyboard as possible. Perhaps the most noticeable result of this approach is the complete lack of function keys along the top of the keyboard. This means the rest of the keys can be much taller, providing a larger strike area and cutting down on mistypes. If you still can't live without your Fn-based shortcuts, F1-F10 have been relegated to the second row - simply press Fn then A-;. If you need F11 or F12, though, you're out of luck.

The usual SCC ports, on the left...
The touchpad is small but responsive, filling the remaining vertical space between the keyboard and bottom edge, bar two small left- and right-click buttons. Unlike many machines with dedicated volume, wireless and ambient temperature buttons, the Dell is distinctly minimalist in comparison. The power button sits alone above the keyboard and everything else is relegated to a secondary function of an existing key on the top row.
When it comes to performance, the Mini 9 is a bit of a mixed bag. It only just missed on the top spot for CPU performance running PC Mark05 and it was almost as good for memory. Hard drive results were shocking, in comparison, with its solid-state drive unable to keep up with the spinning platters offered by the competition.

...and the right
It had no trouble chomping through our Gimp Gaussian Blur test, managing to chew through it in a mere 5.1 seconds putting it second only to the aforementioned Advent 4213.