Review Creative's X-Fi sound cards have been around for a while, but with the Sound Blaster X-Fi Notebook we have the first ExpressCard 34 iteration of the breed.
That's not to say laptops with ExpressCard 54 slots have been ignored - the Sound Blaster comes with a suitable adaptor. Whichever of these slots you use, the card's all about bringing high-quality multi-channel audio to laptops. It also doubles up as a wireless music streamer, though only to Creative's new Wireless Receiver. But more about that later.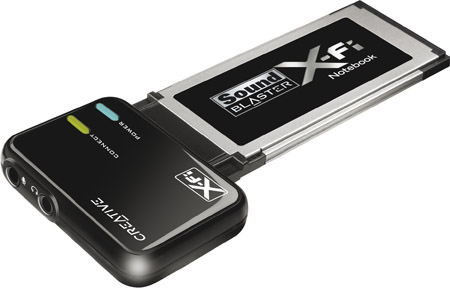 Creative's Sound Blaster X-Fi Notebook: multi-channel output for laptop-based gamers
The card is straightforward enough. It has lights to indicate power and wireless connectivity, and two 3.5mm jacks at the end, one for audio out and one for microphone in. When in place the card pokes some 40mm out from the side of your notebook.
Creative's claim that its X-Fi technology radically improves the quality of compressed music files depends upon your definition of "improvement". As our recent test of Edifier's MP300 2.1 speaker system demonstrated, a cheap, no-name USB audio adaptor and a decent powered speaker rig is capable of pumping out a more-than-decent sound from a laptop.
Once loaded, Creative's software suite allows you to modify the card's audio output in a plethora of interesting ways. The EAX settings can be used to emulate various venues, the 3D settings give you ersatz surround sound, while the X-Fi Crystalizer beefs up certain frequencies to give an enhanced feeling of clarity. You also get Smart Volume Management, which lessens the gap between the quiet parts and the loud bits of a song, plus a ten-bar graphic equaliser with ten pre-sets and the option to set and save your own custom profiles.
There is also a handy master default switch to put everything back the way it was to start with if you manage to tie yourself into an audio knot.