A US admiral has called for American warships operating in the Middle East to be equipped with microwave "pain ray" cannons to avoid using overwhelming lethal force.
The Navy Times reports that Vice Admiral Bill Gortney, in command of the US 5th Fleet, has put out an "urgent need statement" seeking extra nonlethal weapons for his cruisers and destroyers to use against small boats at short ranges. The 5th Fleet is the US naval command covering the Red Sea, Arabian Sea, Persian/Arabian Gulf and the east African coast as far south as Kenya.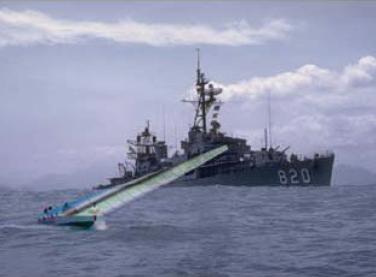 Starboard raygun battery - engage!
A problem for western warships in these waters is attacks or harassment by small, fast-moving speedboats. These manoeuvres may be carried out by such groups as the Iranian Revolutionary Guards - as seen recently in an incident near the Straits of Hormuz which almost escalated fatally after radio trolls joined in. Likewise, the Royal Navy was severely embarrassed by Pasdaran speedboats off the Shatt al' Arab waterway last year.
Alternatively, the speedboats might be loaded with a massive explosive charge and crewed by a suicide party, as the crew of the USS Cole learned to their cost in Aden harbour eight years ago.
In theory a well-armed destroyer or cruiser need never worry about such threats. It can detect small boats miles away on radar, and either send its helicopter to eliminate them or launch a ship-killing missile itself. Should an attacker slip through, automatic gun batteries can easily be switched from their task of blasting missiles from the sky to rip attacking speedboats to shreds.
The trouble with this is that you'll wind up starting a lot of wars and killing a lot of people, probably unnecessarily in most cases. But if you don't shoot reasonably soon, you may leave yourself open to some kind of Shatt al'Arab or even USS Cole nightmare.
Hence the wish for some option a bit less final than hail of armour-piercing 30mm or a Harpoon, but with a bit more authority than a loudhailer or radio message.
According to the Navy Times, US warships already pick up Long Range Acoustic Device (LRAD) noise-blasters on joining the 5th Fleet. A cruise liner used an LRAD to stand off Somali pirates in 2005.
However it seems that quite simple measures like hearing protection can reduce the LRAD's effect, and Admiral Gortney would like something else. Specifically, he'd like some variant on the (in)famous Raytheon Active Denial System microwave gun, which inflicts intense pain on its targets by heating up the outer layer of their skin. Raytheon say they've already tested the ADS against men in boats, off Florida in 2006, and it worked well.
However, just because Admiral Gortney would like some microwave rayguns doesn't mean he'll get them. Ground troop commanders in Iraq have been nagging the Pentagon for such weapons for years without any result, primarily because of the negative media perception of them.
The fact is, in general media coverage appears to be less damaging when western forces shoot or blow up local people, killing or crippling them in significant numbers, than when they propose deploying non- or less-lethal weapons.
Read the Navy Times report here. ®
Similar topics