This article is more than 1 year old
Sony Cyber-shot DSC-T700 compact camera
A slimline, stylish snapper that looks the part
Incidentally, don't be fooled by Sony's 3.5in display specification claim - the actual area used for displaying the image is less than three inches, with the rest taken up by two large black bands at the sides. Tucked on top of the display is a black playback button which is hard to see against the camera's black background.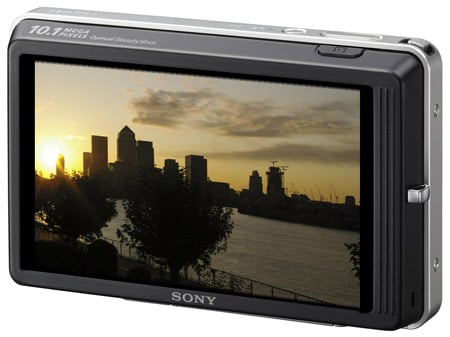 The display area is closer to 3in than 3.5in
In terms of features, the DSC-T700 has a 1/2.3in Super HA CCD with 10.1 effective megapixels; a Carl Zeiss Vario-Tessar lens with a 4x optical zoom and focal length of 6.18-24.7mm, equivalent to 35-140mm in the 35mm format; shutter speed range of one-quarter to 1/1000s; ISO range from 80 to 3200; and as much face-detection technology as you can shake a stick at: the system is even designed to distinguish between adults and children.
Oh, and there's smile-detection technology too, with a choice of three settings; red-eye reduction; anti-blink technology which it detects when your subject's eyes are closed; anti-shake; and a "D-Range Optimiser", which Sony says adjusts exposure and contrast in high-contrast and backlit scenes.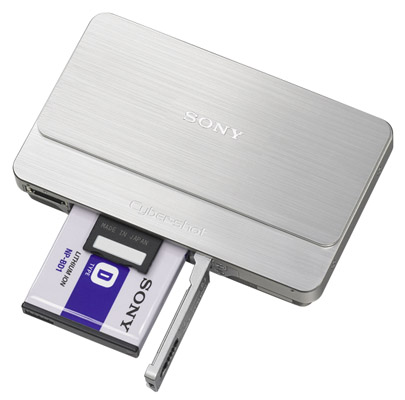 Memory cards and battery slot into the base
The DSC-T700 offers a maximum image resolution of 3648 x 2736 pixels down to 640 x 480 (VGA) resolution, and there are three movie modes too: VGA resolution at 30f/s and 17f/s, plus 320 x 240 (QVGA) at 8f/s.
Sony has really beefed up the internal storage capacity on this camera and the DSC-T700 offers a massive 3.71GB of on-board storage, enough for 40,000 images at the lowest resolution or 1000 images at the highest. If that's not enough for you, the camera will also accept Memory Stick Duo cards.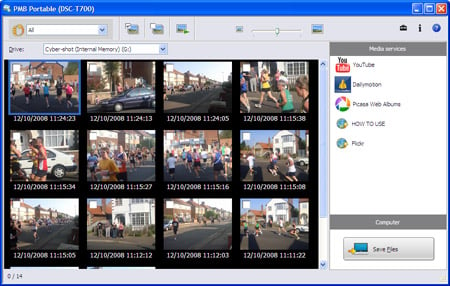 The camera comes with Picture Motion Browser for importing and exporting images
Click for full-size screenshot
The DSC-T700 is very compact and weighs just 160g with battery and memory card on board. The camera is clearly designed for the style-conscious snapper who for the most part simply wants to point and shoot. Manual control is minimal and the camera offers three main operating modes. Auto Mode does what it says on the tin. Easy Mode takes away even more control from the user, offering just a few adjustable variables, such as image size and self timer.