Review The downfall of portable DAB radios have always been their lack of battery life. Few models have really been able to sustain themselves long enough to deliver a truly out-and-about experience.
Enter the Ecologic 1, part of a six-strong line-up each of which offers extended battery life and, in the case of the Ecologic 1 and its brother the Ecologic 2, a built-in battery charger.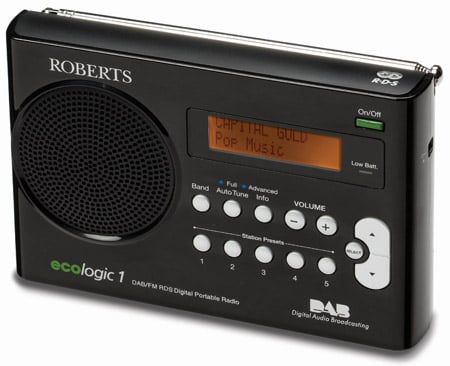 Roberts' Ecologic 1: comes with a built-in battery charger
Battery waste is still a big problem in the UK, with only a very small percentage of non-rechargeable batteries being recycled. In fact, EU legislation now requires the UK to recycle 25 per cent of all its disposable batteries, a target which looks unlikely to be met.
Roberts is doing its bit by supporting a free take-back scheme which operates through independent retailers in 21 UK towns and cities where the public can dispose of dead batteries.
But it really hopes consumers will adopt rechargeables, and the Ecologic's on-board charger is one way it'll use to encourage them to do so.
Not that the Ecologic 1 is perfect. Charging the four NiMH rechargeable batteries the radio is designed to be powered by takes seven hours, which seems rather long, especially when standalone chargers can do it much more quickly. The batteries don't charge while the radio is being used.
However, in the radio's favour is a small lock on the side of the unit that makes sure that the radio can't be accidentally turned on while being transported, cutting down on wasted power consumption. It also comes with an energy efficient mains adaptor and a switch that cuts off the charger if you are using disposable batteries.