Yahoo! shares tumble as Ballmer shuts coffin on Microhoo
Redmond supremo unfazed by yin Yang
---
This week, Yahoo! chief Jerry Yang said "the best thing for Microsoft is to buy Yahoo!" But Steve Ballmer doesn't see it that way.
Chatting at a business lunch in Sydney today, The AP reports, Ballmer reiterated that Microhoo is well and truly dead.
"We made an offer, we made another offer, and it was clear that Yahoo didn't want to sell the business to us and we moved on," he said. "We are not interested in going back and re-looking at an acquisition. I don't know why they would be either, frankly. They turned us down at $33 a share."
Following these words, Yahoo! shares tumbled as much as 14 per cent. At last check, they were down 12.5 per cent on the day, to a measly $12.21 a share.
In February, Steve Ballmer bid $31 a share for Yang and company, and when Yang turned him down, he went to $33 a share. That's a $47.5bn offer.
But on Tuesday evening, six months after he rebuffed Ballmer a second time, Yang seemed to indicate he was open the merger. "People who know me know I don't have an ego about remaining independent versus not remaining independent," he told a San Francisco Web 2.0 love-in.
Earlier in the day, Google had terminated a search advertising tie-up with Yahoo!, after the Department of Justice threatened a lawsuit.
Breathless tech reporters the world over reported that Yahoo! was attempting to revive talks with Microsoft. But it appears Yang is still caught in that nether world where he believes Yahoo! is better off on its own. Reuters first reported that Jerry called a Microsoft-Yahoo merger "the best option for Yahoo!" But the news service soon realized he'd called it the best option for Microsoft: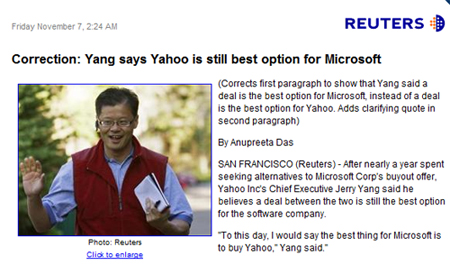 Reuters caught in Yahoo! spin machine
A Yahoo! spokesman confirms that Yang doesn't believe Microhoo is necessarily a good idea for Yahoo! "[Yang's] his contention was that the best thing for Microsoft was to buy Yahoo!, but not necessarily that it was the best thing for Yahoo!," he said.
But Yang did say he's "open-minded" about selling Yahoo!'s search business to Ballmer. And two days later, Ballmer seemed amenable to at least a search tie-up. "I'm sure there are still some opportunities for some kind of partnership around search, but I think (an) acquisition is a thing of the past," he told some Australians. ®