This article is more than 1 year old
Lib Dem stripogram councillor quits politics
Finally shafted by Devon two Inches
The stripogram Devon councillor who last year provoked three members of her local Lib Dems to quit the party in disgust has herself stepped down from Bideford council, the Sun reports.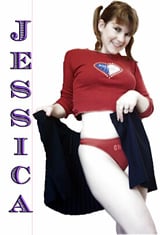 Myrna Bushell, 35, divided her time between motherhood, discussing the church roof situation and strumpeting about as "Jessica" - a "very sexy auburn professional multi-talented adult & non-adult entertainer". In 2007, she was punting herself at £75 a pop for a topless stripogram gig, and also ran a £1.50-a-minute sex line from her home.
This proved too much for Tony Inch, his brother Simon, and deputy Mayor Caroline Church, who jumped the Lib Dem ship, declaring: "We believe that our integrity and principles will be compromised if we stay."
Bushell defended: "There are elements here that run deeper. The reason I do them is to pay my bills and be able to spend quality time with my family. It's not incompatible with being an elected councillor and it's not illegal. Three people seem to be upset but no one else is - I've got to earn a living somehow. Caroline Church hasn't liked me from the beginning."
While the council clerk last year said Bushell had "not breached the councillors' code of conduct because her business activities do not impinge on her duties as a councillor", she's now decided to throw in the towel "because she has lost the respect of her fellow politicians".
She explained: "After the publicity of my personal life last year, I never really recovered and it made it virtually impossible to gain support or open lines of communication necessary to fulfil my duties. Some people within the council never gave me the respect as an equal and therefore my opinions were discredited before I even made them."
Bushell's current going rate is £85 for a kissogram, £95 for a stripogram or £110 for a topless stripogram, according to the Sun. We earlier today attempted - in the interests of journalistic accuarcy, natch - to verify this tariff down at her agency's website, but it had decided to have a little lie down. ®