Honda's latest wacky walker stetches its legs
Take the strain out of walking
---
Honda has unveiled its latest attempt at wearable robotic legs, which this time around feature shoes, leg supports and a bicycle seat.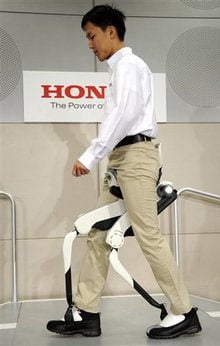 Honda's walking unit takes the strain out of walking
Simply slip the U-shaped seat between your legs and fix the machine's shoes over your own, before switching the unit on and going about your daily walking business.
Honda said the experimental device is designed to support a person's bodyweight, reduce stress on their knees and help them walk up stairs.
An Associated Press reporter, who wore the walking gadget at the launch, said it took some getting used to. But he felt it supported his walking movements by pushing up his bum when he squatted down and by pushing down on his feet to help lift his legs when walking.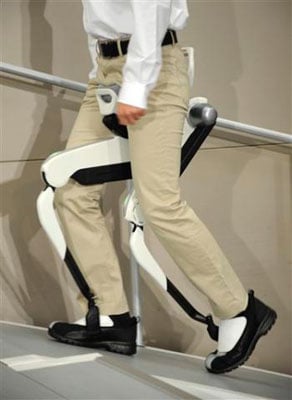 Let you robotic legs do the walking
Honda's keeping mum about exactly how the technology works, but has said that a computer, two motors, a lithium-ion battery and a selection of gears and sensors are all embedded inside. It weighs about 6.5kg and can support a maximum walking time of about two hours.
Plans for a commercial launch or a potential price haven't been released. Perhaps the in-house team are just having too much fun walking around with the prototype?
Earlier this year Honda unveiled a similar walking support unit that looked more like an over-the-top rock climber's harness.