North Korea photoshops stroke from Kim Jong Il
Pixelated communist chief in shadow snafu
---
North Korea has released a new pic of chairman Kim Jong Il, hoping to show the world that the communist despot/self-professed internet expert is alive and well and healthy enough to actually appear in public. But this may be a case of communist photoshopaganda.
Three months after Kim Jong Il disappeared from public view amid rumors of a serious stroke, the Korean Central News Agency released a photo in which the "Dear Leader" poses alongside a North Korean military unit. But an eagle-eyed Times reader has noticed that Kim's shadow doesn't quite match shadows cast by the soldiers (ostensibly) standing beside him.
Here's the pic, courtesy of Reuters: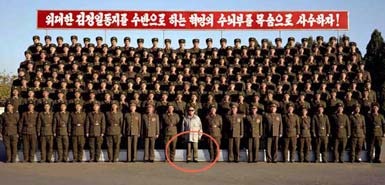 Communist photoshoppery?
And here's The Times' blowup: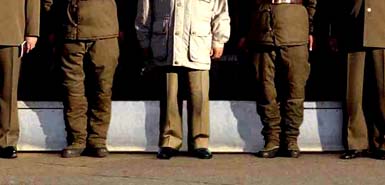 Shadow misplay?
Kim Sung Ho, head of the South Korean spy agency, has confirmed reports that Kim Jong Il suffered a stoke and was treated by foreign doctors. But this hasn't stopped the North Koreans from spewing all sorts of photos meant to show he's A-OK. Last month, they released new pics in the which the bespectacled Kim appears alongside foliage that proves the pics weren't nearly as new as they claimed. ®
Similar topics
Broader topics