Clothing designer stitches together fisheye camera
Paul Smith does photography
---
Perhaps the credit crunch has started hurting the Paul Smith clothing line, because the designer's decided to branch out into photography - again.
Although technical details are a little thin on the ground, Smith said that the snapper has a 180° wide-angle view and provides a "stunning fisheye barrel distortion" for images. It also has a true fisheye viewfinder.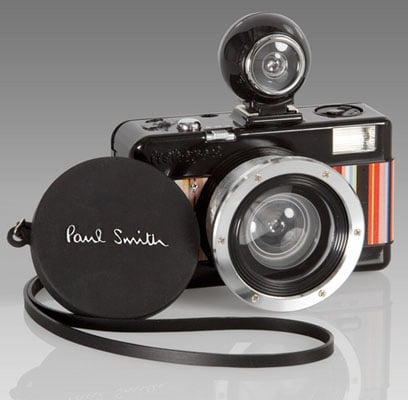 The Paul Smith fisheye camera
Elsewhere on the camera, you'll find a bulb setting for long exposures and a switch for multiple exposures on the same frame. It has a built-in flash and a hot-shoe fitting for a secondary flash.
Paul Smith might be at the forefront of fashion, but he's definitely not at the forefront of photography technology because the camera uses ye olde 35mm film.
Paul Smith's first attempt at photography
Smith said the new model comes finished with a "full metal jacket", but we guess he means the camera body and not a free DVD. The "exclusive" and "limited edition" snapper is a result of the fashion firm's tie-up with camera company Lomography.
The Paul Smith fisheye No2 camera is available online now for $150 (£65/€80).
If that's not in your price range though, but you want something... ahem... classy to snap away with at office Christmas party, then he's already released a disposable camera with the same striped colour body.