This article is more than 1 year old
Handheld games console three-way shoot-out
PSP vs DS vs… iPod Touch
Round-up For the last few years, the handheld games market has been dominated by the now-traditional rivalry between Sony's PlayStation Portable and the Nintendo DS Lite. This year, though, there's a surprise new kid on the gaming block: Apple's second-gen iPod Touch.
Apple is touting the new Touch as "the funnest iPod ever" (sic), and wants to make a strong selling point out of the device's gaming abilities. Some of the games that we've seen for the Touch certainly look quite impressive, so we decided to take all three contenders in hand and check out their gaming credentials – as well as their wider capabilities in areas such as music, video and internet browsing.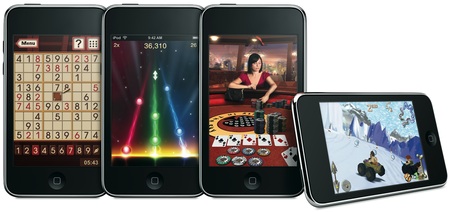 Apple's 2G iPod Touch: handheld games machine
The unexpected evolution of the iPod Touch is a side-effect of the huge success of Apple's iPhone. Apple has sold more than ten million iPhones in the last 12 months, and this has prompted a flood of games for the device. The iPod Touch has the same touchscreen controls, motion sensor and operating system as the iPhone, which means that it can play the same range of games. Apple slapped a small speaker onto the new 2G model so that you can play games without wearing earphones and – hey presto! – instant games machine.
Admittedly, the iPod Touch might seem a bit expensive for a handheld games console, but with prices starting at £169 for the 8GB model it's only slightly more expensive than the updated PSP-3000, which was released in October at £150 — although you can still get bundles including the previous 'slim and lite' PSP plus one or two games for around £130. The 3.5in widescreen display of the iPod Touch provides a clear and colourful image that's well suited to mobile games – though it's not as large as the 4.3in screen of the PSP.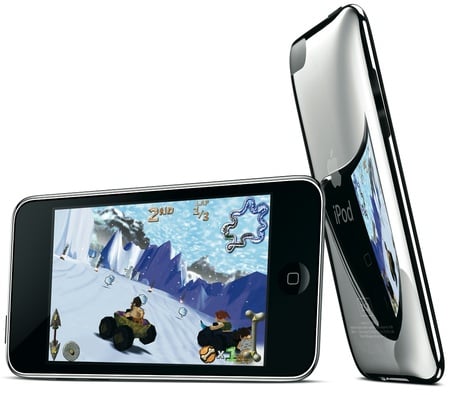 Cro-mag Rally on the iPod Touch
But, as the name implies, it's the touch-screen control system that's the Touch's the big selling point. The ability to just tap or flick your finger across the iPod screen to control a game is a logical progression from the tapping approach of the DS – and you don't have to worry about losing the stylus either. However, the really neat trick is the motion-sensor that allows you to control games simply by tilting the device from side to side. This works really well when playing racing games such as Crash Bandicoot, where the entire iPod effectively acts as the steering wheel, or games like iBall 3D, in which you roll a marble around the screen.