Elon Musk's SpaceX offers non-ISS spaceship
Cutting NASA's apron strings?
---
PayPal multihecamillionaire Elon Musk's rocket company, SpaceX, has announced that it will fly a genuinely private-sector space mission - including return to Earth - as soon as 2010.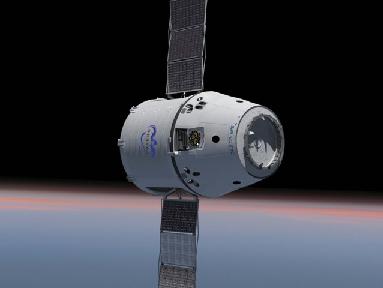 We don't need no stinkin' NASA.
SpaceX's plan to launch a variant on its "Dragon" capsule, to be called "DragonLab", was announced this week. The basic Dragon is intended to deliver cargo - and one day, perhaps astronauts - to the International Space Station (ISS) under NASA's Commercial Off The Shelf (COTS) spacelift programme.
NASA needs COTS because its own method of getting stuff to the ISS, the space shuttle, is intended to retire soon and the designated successor - Ares lift stacks and Orion capsules - won't be ready until at least the middle of the next decade. Much of SpaceX's work on its Falcon rockets has thus been funded by NASA - though the company expects to get a lot of commercial launch customers too.
At the moment, SpaceX has just proven its Falcon 1 rocket, which has achieved a successful launch on the fourth attempt. Falcon 1 stands out for its cheapness, but lacks the grunt to lift heavy payloads like the Dragon. Thus, SpaceX expects to demo its heavier Falcon 9 next year.
Once three Dragon flights have been carried out under COTS, however, SpaceX intends to launch the modified DragonLab with a variety of paid-for cargoes aboard.
The DragonLab, lacking an ISS docking collar, will be able to carry 6 tonnes to orbit and return half of that safely to Earth in the Dragon re-entry capsule, intended to splash down in the ocean off California. Unpressurised parts of the payload, perhaps small survey or scientific satellites, can be left in orbit.
SpaceX can't do its first DragonLab shot until 2010, but thinks it will have plenty of customers signed up for space aboard the mission by then. The company hosted a workshop for interested parties yesterday at its main fabrication plant in Hawthorne, California. ®