Toshiba launches three-GPU, four-core laptop
---
Toshiba has introduced a gaming laptop with not one, not two but three graphics chips on board.
The Qosmio X305-Q708 packs in a pair of discrete GPUs - Nvidia's GeForce 9800M GTS chip, to be precise - that operate together in SLI mode.
But the laptop also uses Nvidia's GeForce 9400M chipset, which integrates a graphics core of its own. It's the same chipset used in Apple's recently released dual-GPU MacBook Pro.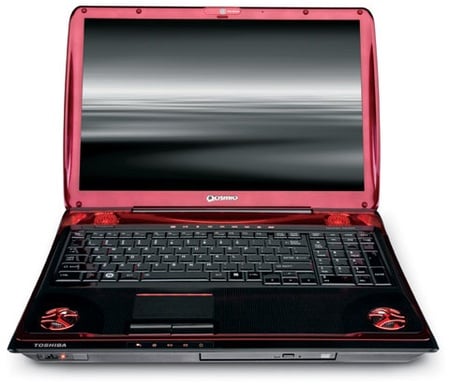 Toshiba's Qosmio X305-Q708: three GPUs on board
Alas, the laptop doesn't appear to be able to use all three graphics cores simultaneously. Instead, gamers can use the SLI-linked discrete parts for games then flip to the integrated GPU to conserver power when running away from the mains.
Nvidia was, of course, cock-a-hoop about the launch, spoiled only by Toshiba's decision to kit the GeForce-filled laptop out in ATI red.
The new Qosmio line-up contains the X305-Q706 and the X305-Q708. The former runs on a 2.26GHz Core 2 Duo CPU, while the Q708 has a 2.53GHz Core 2 Extreme quad-core chip on board. Both come with 4GB of DDR 3 memory; a 320GB 7200rpm hard drives; four speakers and a sub-woofer; and a 17in, 1440 x 900 display. The X706 uses the GeForce 9700M GTS graphics chip.
The Q706 is priced at $2000 (£1272/€1566), the Q708 at a whopping $4200 (£2671/€3288). There's no word yet on UK and European availability and pricing.