Bill Gates is working with his former chief technology officer turned IP collector Nathan Myhrvold to register patents in a way that could help Microsoft monetize the internet.
TechDirt has uncovered that Bill Gates is named as an inventor on nine patents registered with a company called Searete since he stepped down from day-to-day responsibilities with Microsoft. Gates is also named on a further two Searete patents pre-dating his Microsoft departure.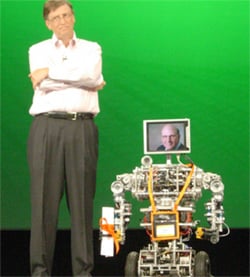 Look out SteveO, you're next
Searete is one of a clutch of companies operated by Myrholvd's Intellectual Ventures (IV). Myhrvold holds 241 named patents in Searete, whose catalogue goes back to November 2005.
Myhrvold gained notoriety in 1997 as Microsoft's US antitrust case was just warming up when as CTO, he reportedly said Microsoft hoped to gain a "vig" on every online transition involving Microsoft technology. He said Microsoft would offer consumers both "electronic information and the means to act on it."
Some will see this as an online ads-based revenue model or Microsoft charging for licensing of its software, such as servers, used to power online services.
Others, though, have been concerned this might be a backdoor to charging those who implement patents containing Microsoft-owned intellectual property.
That was certainly a concern some years back as Microsoft expanded a catalogue of Web Services specifications - WS-*. And even though the WS-* specifications are covered by Microsoft's Open Specification Promise (OSP), concerns remain that Microsoft can unilaterally update the terms.
Not helping Microsoft's case is the fact that Gates isn't the only Softie working with Searete. Senior vice president of Microsoft research Rick Rashid and chief research and strategy officer Craig Mundie - who assumed some of Gates' responsibilities on departure - are also listed on the Searete patents. Searete and IV are also based in Bellevue, Washington - Microsoft's home state.
The patents authored by Gates, Rashid, Mundie, and others cover ways of identifying and monitoring the way people interact with web sites and online systems.
Myhrvold left Microsoft 2000 after 14 years to form IV, a company about which little is known and that's been steadily building a catalogue of patents. The company has recently gone out of its way to deny it's a patent troll (warning: PDF), by talking to certain sections of the press. IV describes itself as an "invention company." ®
Similar topics