Sun is now distributing Microsoft's Live Search toolbar atop its Java Runtime Environment, after parting ways with Google's browserware.
According to Sun's press release, Internet Explorer users downloading Sun's JRE "have the option" of downloading the MSN toolbar too. But it's worth noting that the install-Microsoft-app button is checked by default. Sun automatically loads Redmond's browserware unless you specifically tell it not to.
"All our toolbar deals are opt-out - so MSFT toolbar will be opt-out as well. Box will be checked but user can decline to download it," a company spokeswoman told us.
That's right, Sun has a history of piggybacking additional software atop Java downloads, including its very own OpenOffice software suite and Yahoo!'s search toolbar for Mozilla's FireFox browser.
As you can see, the install-Yahoo!-app button is checked by default too: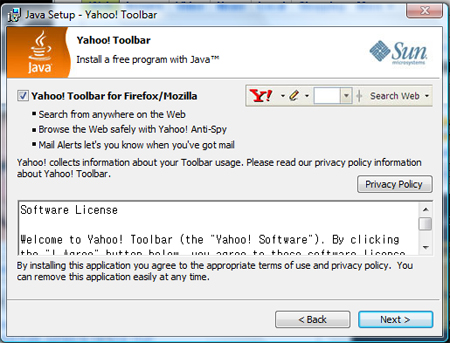 JRE piggybacks Yahoo!
And things work much the same way with OpenOffice.
This is isn't nearly as sneaky as Apple slipping its second-rate Safari browser onto PCs via its software updater. But it would be nice if Sun (and so many others) didn't play these games with naive netizens.
Sun wouldn't tell us how much Microsoft was paying the company to distribute the MSN toolbar. But you can bet it would pay a lot less if that box wasn't checked by default.
We commend Sun for eventually acknowledging that its MSN-atop-Java setup is opt-out. But we do find it amusing that so many companies like to play both sides of this issue. When we first discussed the Microsoft tie-up with Sun's Eric Klein - the man who announced that Sun would put Java on the Jesus Phone without checking Apple's anti-Java EULA - he insisted that Redmond's toolbar was opt-in only.
Until today, JRE also piggybacked Google's browser toolbar. But as it makes room for Redmond, Sun has divorced the Mountain View ad broker. Sun Java will attempt to install the MSN toolbar only if you're in the US and you have Internet Explorer installed. According to Sun, JRE was downloaded 525 million times over the past twelve months. And this number leaps by about 65 per cent each year. ®