As part of its ongoing effort to shrink the Google gap with shameless bribery, Microsoft is now offering 25 per cent off eBay purchases made by way of its Live Search engine.
Previously, Redmond's eBay cashback offer was around 10 per cent.
"Christmas presents to be purchased? Budget a bit tight? Microsoft Live Search has a solution for all the parents out there being harassed for big ticket items by our kids. Why not save up to 25% right now?" asks Live Search group product manager Kok Waii Wong from the official Live Search blog.
The bribe applies only to eBay "Buy-It-Now" offers, purchased via eBay's very own PayPal payment system. Your rebate can't top $200. And you must be in the US .
You'll notice that Microsoft has stopped short of the 35 per cent cashback offers it floated early in the program. It would appear that such offers have allowed clever eBayers to sell $630 for $714: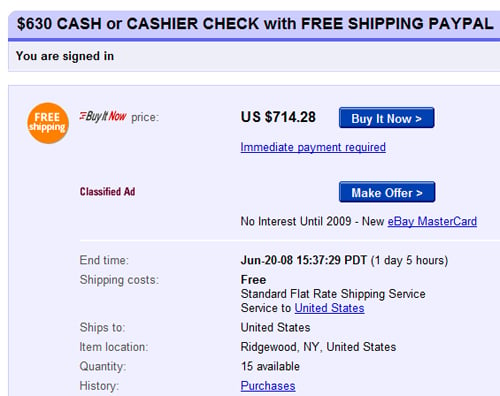 Paying cash for cash
In May, in a desperate bid to boost traffic, Microsoft began bribing people to use its third rate search engine. If you use Live Search ads to find and buy certain items, Microsoft will return a portion of the purchase price.
The payments come straight from Microsoft's product-selling advertisers, including eBay. So, if a partner like eBay posts an advertisement, the ad fee provides a cashback refund.
Microsoft has yet to respond to new inquiries about the eBay cash-for-cash scams. But a 25 per cent return reduces the profits available from such digital trickery.
The question is how long Microsoft is willing to continue bribing search engine users - whether they're scamming the system or not. It appears that bribes aren't working as well as Microsoft hoped. From June to July, according to comScore, Microsoft's search market share actually went south. ®