Review LG's successor to its Viewty focuses on imaging capabilities with a centrepiece eight-megapixel camera.
The KC910 - or Renoir, as it's artistically labelled - doesn't only have an eyebrow-raising cameraphone resolution, though. The device, built around a large, 3in touchscreen, is packed with a roll-call of the latest must-have mobile features. It's an HSDPA-enabled 3G device, supports Wi-Fi and has A-GPS location-finding technology on board.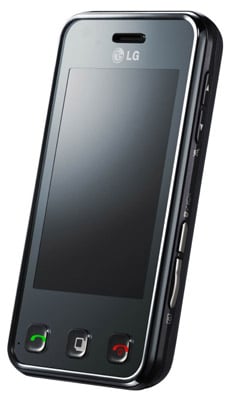 LG's Renoir KC910: packed with the latest must-have features
LG is also claiming a first for mobile audio, with Dolby Mobile sound-enhancement technology built in too. And as the phone arrives with an 8GB memory card in-box, LG is clearly hoping Renoir's multimedia credentials will be attractive too.
What the phone doesn't have, however, is the flexibility for customisation that a smartphone operating system offers. LG has stuck with its own touchscreen user interface.
Nonetheless, that 8m-pixel camera is the real attention-grabber. At launch, LG hailed the Renoir as the thinnest eight-megapixel handset around - the phone's a sliver under 14mm. While these things change, it's undeniably slim for the imaging technology it packs.
It doesn't skimp on the photo features. It has Schneider-Kreuznach endorsed optics, and is boosted by the inclusion of a xenon flash. It includes a stack of tweaking and shot-enhancing options, including touch-to-aim autofocusing. On the video front, LG has reprised the slow-motion video capture capability, and DivX video playback support introduced on its successful Viewty.
OK, so the Renoir looks a bit like the you know what. It has a smaller footprint and is lighter than the iPhone, at 107.8 x 55.9 x 13.95mm and weighing 110g, but it's a slightly bigger proposition (though slimmer) than its Viewty predecessor.