Hauppauge myTV Pocket Freeview PMP
Media player with built-in digital telly tuner
Review Pocket TVs have thankfully come on a ways since the world went 'er.. what?' at the unveiling of the Sinclair MTV1 back in 1977.
The myTV Player from TV tuner specialist Hauppauge is a fresh attempt to bring you telly on the move, this time wrapping a DVB-T receiver - Freeview, basically - and a PMP into a single, affordable unit.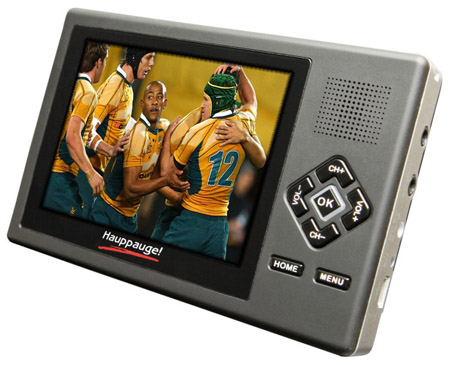 Hauppauge's myTV: underwhelming design
From the outside, the myTV is underwhelming, having a touch of the old kitchen transistor radio about it. Still, the 200g, 122 x 78 x 18.4mm device feels well built and solid, with the exception of the flip-out plastic stand on the back, which is rather flimsy and can be effortlessly pulled out of its hinge housing.
The 3.6in, 320 x 240 screen certainly won't cause the folk at Archos or Cowon to lose any sleep, but it's crisp, clear and bright enough for the job in hand. Those pixel dimensions will tell you this is a 4:3 ratio display, so 2.4:1 widescreen videos appear just a little on the small side, but this is less of a problem with 16:9 widescreen broadcasts.
Telly reception in west Manchester and north London - the two areas we in which we tested the device - was well up to par, the device's auto tuner quickly locking on to all the available Freeview TV and radio stations. Reception was a little variable depending on exactly where the device was placed but we found we were able to get most of the major channels, most of the time.
The hinge on the built-in aerial leaves a bit to be desired: it's happy to sit either vertically or horizontally but not at points between.