This article is more than 1 year old
Microsoft marks Windows' anniversary with Windows 7
Big, dumb icons
Past is prologue. So said Joe Biden during a vice presidential debate slap-down to Sarah Palin after she'd chided him about him going on and on about the past eight years.
It is significant, then, that Microsoft chose the anniversary of Windows to evangelize the new Windows 7 user interface with nods to Windows 1.0, Windows 95, and Windows XP.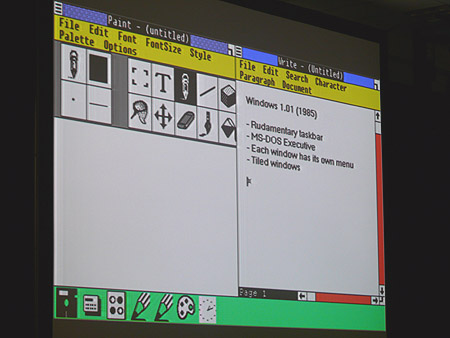 Back to the future: Windows 1.0 used to inspire Windows 7 ISVs at PDC
It was this week in 1983 that some dufus sporting a scrappy hair cut and representing some company called Micro-whatsit announced the precursor to all those operating systems. Speaking at New York's Helmsley Palace Hotel, Gates unveiled Windows, the 16-bit operating system that ran on IBM PCs.
The pitch came as the competitive climate was intensifying. VisiCorp had previewed VisiOn in 1982 and Apple launched Lisa in January 1983, while just a few years later 1985 would see IBM's TopView, Digital Research's GEM, and the Amiga Workbench. You can get a feel for the times here.
Microsoft's president and board chairman used the New York event to demonstrate a graphical-user interface sporting drop-down menus, mouse support, tiled windows, data transfer between applications, and the ability to simultaneously run multiple applications.
The boy wonder did more than just play his part in ushering in the mass-market PC revolution, though. He unwittingly set the standard for Windows delivery cycles. Gates promised Windows would ship five months later, in April 1984. Which makes November notable for giving Windows its second anniversary: November 20, 1985, was when Windows 1.0 was actually released, priced at a heady $100.
The ghost of that first Windows was present at Microsoft's Professional Developers Conference (PDC) last month, where Softies evangelized Windows 7 as a return to GUIs past using a rudimentary task bar and big icons.
Senior program manager Chaitanya Sareen told ISVs to build applications for Windows 7 that fire up using icons, instead of writing to multiple locations or from the start menu. "The past had some really cool feature ideas you want to resurrect," Sareen told PDC. "We stole from Windows 95, XP, and Vista." ®