Best Buy sheds lost revenue tears, shares holiday fears
Too many people only want their two front teeth
---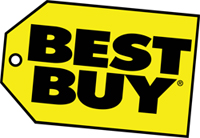 Best Buy isn't so sure customers will spring for that $50 spool of Monster Cable speaker wire in this economy, so the electronics retailer today lowered fiscal-year earnings expectations.
Although Best Buy saw its biggest rival, Circuit City, file for Chapter 11 bankruptcy protection on Monday, the mood is hardly celebratory at executive HQ. Best Buy issued a warning to investors that it sees "softer" consumer spending right now and is uncertain how all the turmoil in the financial markets will play out in the consumer electronics space over the all-important holiday shopping season.
"Since mid-September, rapid, seismic changes in consumer behavior have created the most difficult climate we've ever seen," said CEO Brad Anderson in a statement. "Best Buy simply can't adjust fast enough to maintain our earnings momentum for this year."
He assured investors, however, that the company is "adjusting" its expenses nonetheless. "Adjusting" in the biz is usually code for "firing" and "closing," but Best Buy stopped short of announcing any specific plans.
Anderson said Best Buy is also attempting to expand its market share amidst belt-tightening. It recently pumped $1bn into a joint venture with Carphone Warehouse and – arguably inexplicably – paid $120m to buy Napster.
The company said it's total store sales declined by about 7.6 per cent for fiscal October. The slump followed a comparable sales decline for fiscal September as well.
"In 42 years of retailing, we've never seen such difficult times for the consumer. People are making dramatic changes in how much they spend, and we're not immune from those forces," said Brian Dunn, Best Buy's chief operating officer. "That's why it's critical that we manage our spending, while preserving key growth initiatives. Having said that, we believe that our strategic indicators remain strong."
And a parting shot for Circuit City:
"In fact, given recent announcements by competitors, we believe we have even greater potential to serve new customers and to capture market share in the months and years ahead," added Dunn.
Best Buy previously expected fiscal 2009 (ending February 28, 2009) revenue of about $47bn. Now it's revenue guidance is between $43.7bn and $45.4bn.
By our count, that's a loss of sale on approximately forty five million four hundred fifty five thousand five hundred and forty five $33 Monster Cable DVI-to-HDMI adapters. ®