Starlust: love, hate and celebrity fantasies
Obscenity law stops fans thinking Aloud
Guest Column I first noticed Girls Aloud in my local Sainsbury's. Lingering at the newsstand to scan the papers I registered their sustained PR campaign focused on crotch and upskirt shots.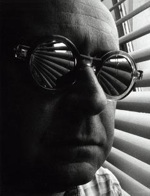 No accident that. Not day after day, week after week. More like a set-up between paparazzi and popstars. That's showbiz! And I support Girls Aloud's right to stuff their privates in the face of the breakfasting public. Just as I uphold Madonna's to advertise her wares with a promo photo of her licking a man's arsehole. Or Eminem's Superman vid in which he frolics with an accredited porn star, writhes on a sea of naked bods, assaults groupies and snarls, "put anthrax on a Tampax and slap you till you can't stand." Or Snoop Dogg's collaboration with porn mogul, Larry Flynt, for the hardcore vid, Doggystyle. Commented Flynt, "Like myself, Snoop has had to battle for his First Amendment rights to say what he wants."
But what happens when fans take such invitations literally? Step from the shadows and play mind games themselves?
That's a theme I first explored some years back in the book Starlust: the secret life of fans - a compilation of interviews, fantasies, groupies' diaries, dream journals, and letters – to stars and between fans.
It caused a shock. Punky Adam Ant, who launched himself in SM leathers brandishing a bullwhip on stage was horrified to read this imagery played back (but better) through a fan's fantasy. The rock writer, Greil Marcus, wrote that seen through Starlust, "The state of fandom… begins to seem at once like a disease and a marketplace of hysteria commercially promoted for sound commercial reasons: a commercially promoted disease." Another reviewer shrilled, "There were some bits that were so sick I had to read them three times".
Some refused to believe these fans were real. Alleging I'd made it all up. Which was put to rest after a BBC documentary interviewed some of the fans in the book. Truth is always weirder – and scarier - than fiction.
Some of the material shocked even me. Especially the hostility shown by fans to stars. A recurring subtext of apparent devotion was resentment, even rage. Freud called it "ambivalence": love bordering on hatred. Hence, the fan who imagined pop stars in acute pain and fantasized spanking Boy George. The Bowie fan who, frustrated in her plan to befriend Bowie, angrily thought of killing him, "Then at last he'll be mine – like that guy that got JFK." Or the scores of implied or explicit threats (some of them death threats) I found in the (usually unopened) fan letters addressed to stars.
These fans were not pathological. Just honestly exploring the contradictions inherent in fanhood. How else respond to the incessant invitations the celebritariat sends our way? We give these "intimate strangers" - the stars who populate our imaginations and conversations - so much. And what do they give in return? Why, the fuckers won't even reply to our letters.
After Starlust the action moved to the Internet. I followed it there for a (still unfinished) sequel.
The first band with a major online fan presence was Hanson. Three cherubic boys, aged when they kicked off in 1991: eleven, nine and six. The Hanson gospel was spread fan to fan through thousands of chat groups, NGs and amateur sites. This allowed fans to create their own agenda:
"She traced her fingers along his rippling lower back muscles, and slid her small hands down the back of his loose jeans. until they rested on top of his round - What the hell???? my hands CANNOT be on top of Taylor Hanson's ASS right now!!!!! I can't believe this!!!! It sure is perfect though... She noticed the really small details, like how soft his cotton boxers felt, and how muscular yet round it was. I wonder what he feels like underneath these cute undies… She decided to find out…"
As erotic and disconcerting with suggestions of paedophilia and androgyny, were the Hanson fan art pinups posted on the Net.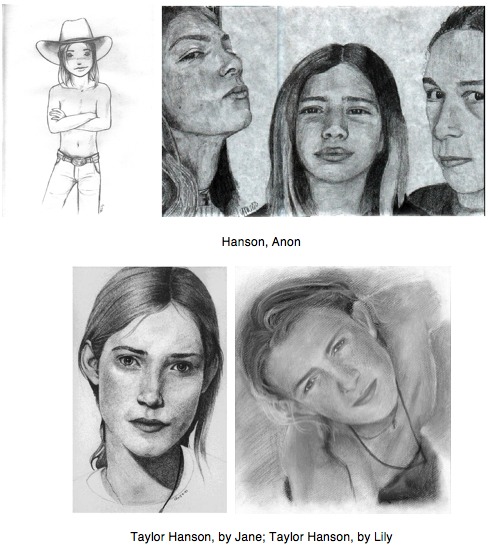 Around this time too, an associated genre began to mainstream. This was hardcore fantasy about celebrities. Migrating onto the Internet, this became rampant on archive sites like asstr.org.
The motives were as subversive as erotic. Like the anti-authoritarian rants the Marquis de Sade inserted into his gargantuan orgies, these fantasies often derisively subvert the codes and phoney promises of the celebritariat. It makes perversely satisfying sense to read on asstr.org about the globally televised flagellation and dildo buggering of Britney Spears by Madonna on a chat show where both stars had been obliged to suck the host's dick in close-up. Hadn't we actually seen that somewhere? Maybe in our dreams? Soon at a screen near you!
Fantasy gets too close?
So, to Girls Aloud.
The Crown Prosecution Service is threatening to prosecute Darryn Walker, who posted a seven page fantasy, Girls (Scream) Aloud on asstr.org. This imagines the kidnap, rape, torture and murder of Cheryl, Nadine, Sarah, Nicola and Kimberley, with a finale in which their body parts end up on eBay. Nasty, no doubt. Unsettling. The blackest of black humour. But no more so than the works of de Sade, or the queer junkie ravings of William Burroughs, or Brett Easton's American Psycho, which forensically itemises the thrills of a serial killer. All of which might be issued by a bespectacled librarian in a beige cardie.