This article is more than 1 year old
Polaroid PoGo handheld colour printer
Instant (almost) snaps from your digicam or phone
Review Weren't Polaroid cameras fun? Now you can capture those days all over again, only with smaller, more expensive instant photos, using Polaroid's new PoGo printer.
Although Polaroid's original instant-picture technology has finally died a death, the PoGo, based on innovative technology from Zink, is intended for a similar role. The PoGo isn't much bigger than a pack of cards and produces 3 x 2in pictures, using no ink and no dye films, either.
The printer is small - just 120 x 72 x 24mm - cased in black with silver highlights, and slips easily into a pocket. Its Li-ion battery is good for around 15 prints, so the battery charger, with a similar volume to the printer, probably has to fill the other pocket. Tip: if you're travelling with a UK mains plug in your pocket, point the prongs outwards.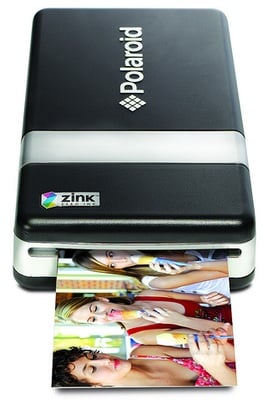 Polaroid's PoGo: probably the smallest colour printer in the world...
Set-up is dead simple. Flip up the top cover of the PoGo and slip in ten sheets of Zink - for 'zero ink', since you ask - paper. The printer can only take ten sheets at a time, and the 30-sheet packs contain three separate sachets, complete with a bar-coded, blue paper slip which automatically feeds out first and tells the printer you've reloaded it.
Snap the cover shut, power up by pressing the single button on the side and you're ready to print. There are two ways of feeding image files to the PoGo: PictBridge and Bluetooth – there's no PC connection. As it only prints on 3 x 2 photo paper, it wouldn't be much use in that role, anyway.