This article is more than 1 year old
T-Mobile G1
Operating System 1, Hardware 0
Review Apart those with either a technical or professional interest, it's open to question how many mobile phone purchasers weigh up the matter of a device's operating system before handing over their cash.
Looks, camera resolution, cost, yes. OS? Probably not. Notwithstanding the fact that you'd need to have spent the last year either under a rock or on another planet not to know that the big thing about the new HTC-made T-Mobile G1 is the new open source Android operating system from Google. But before we get too wrapped up in matters Android, let's take a look at the host handset.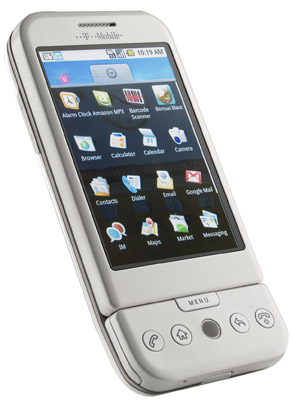 T-Mobile's G1: HTC's handset is wholly unremarkable
The G1 looked distinctly underwhelming when the first shots of the white version appeared. Thankfully, our review handset turned up in matte black and looks a whole lot better for it, though it still won't win any beauty contests.
The basic specification is solid enough. You get 802.11b/g Wi-Fi, GPS, quad-band GSM/GPRS/Edge, 7.2Mb/s HSDPA 3G, a 3.2-megapixel camera, Bluetooth and a 3.2in, 320 x 480 screen.
Internal memory is a paltry 192MB, but the G1 comes with a Micro SDHC slot – and a 1GB card in our case – so storage and future expansion isn't an issue. It's one of HTC's better habits that memory cards can usually be swapped without removing batteries and back cases, and this is true of the G1, though you do have to slide the keyboard up to open the slot cover.
The size and weight of the G1 are nothing remarkable: 117 x 55.7 x 17.1mm and 158g. The controls on the slightly angled lower part of the device consist of a menu key below which sits a very Blackberry Pearl-esque trackball which, in turn, is flanked to the left by call answer and Home keys and to the right by Back and call end keys. The volume control is on the left side of the device; the camera key is on the right. At the bottom, you'll find a reset hole – which we never had to resort to – and a covered mini USB port.