Microsoft wants you to know that its Live Search bribery program has seen "positive traction," claiming that searchified cashback offers have resulted in a significant return on investment for its advertisers. The question is whether Microsoft will ever see ROI for itself.
In May, as part of its desperate bid to boost traffic, Microsoft began bribing people to use its search engine also ran. If you use Live Search ads to find and buy certain items, Redmond will return between 10 and 35 per cent of the purchase price.
These payments come straight from Microsoft's product-selling advertisers. So, if eBay, Drugstore.com, or Saks Fifth Avenue posts an ad, the ad fee provides the cashback refund.
According to Microsoft, the program is a success. Advertisers have posted 30 per cent more product-based ads to Live Search, with 4.5 million web surfers conducting 68 million commercial queries each month. "We believe this early traction speaks to the differentiated and unique value proposition of Microsoft Live Search cashback for both consumers and advertisers, especially in these tough economic times," reads a canned statement from Live Search general manager Brad Goldberg.
Redmond also says that advertiers are generating some serious ROI through the program. eBay has improved its paid search ROI by 50 per cent, and something called ShoeMall has seen a six-fold increase.
What Microsoft doesn't say is that it has seen exactly zero ROI. All its ad fees are going to deal-hungry web surfers. And according to the latest numbers from comScore, Redmond's search market share has actually gone down.
Nonetheless, Steve Ballmer and company sees no end to their bribery. "There is a lot of volatility with share numbers month to month so we remain focused on the long term and are working hard to deliver the best search experience for our customers, partners and advertisers," the company told us. "We are committed to Live Search cashback as a long term investment and core part of our strategy to differentiate Live Search around commerce."
In the short term, the company has rolled out a "custom" comScore study showing that Live Search referred almost 12 per cent of all US "commercial online transactions" and about 13 per cent of all US online spending "among key retail categories" in the second quarter.
We have no doubt that Microsoft can increase purchases from Live Search by offering bribes. But that doesn't mean its cashback makes sense. It's a great thing for inveterate bargain hunters and, it seems, advertisers like eBay. But Microsoft is left in the corner with the dunce cap.
Meanwhile, the bribery program has apparently allowed clever eBayers to sell $630 cashier's checks for $714: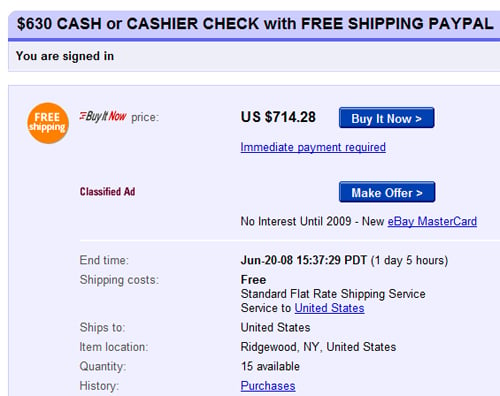 Paying cash for cash
Of course, Microsoft has an answer for this too. "With any program of this type that has a lot of early buzz and provides significant value to consumers, there comes the risk of inappropriate uses or even fraudulent activities," the company tells us. "eBay and Microsoft have therefore incorporated various levels of abuse and fraud mitigation techniques throughout the program. We're committed to providing a positive Live Search cashback experience for consumers and are actively working with eBay to identify, correct and prevent isolated incidents of inappropriate use of this program."
If anyone can explain why Remond even bothers, do let us know. ®
Similar topics