Brits allowed in to OLPC's 'give one, get one' scheme
XO donation scheme to restart next week
---
The One Laptop Per Child buy one, give one scheme kicks off again next week, and this time the offer's open to Europeans.
OLPC's programme - dubbed "G1G1", for 'give one, get one' - allows wealthy Westerners to buy a pair of the Linux-based laptops but only receive one of them. The other is sent to a school in the developing world.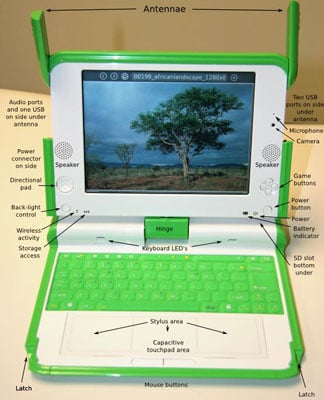 OLPC's XO: buy one, give one plan coming to UK
Actually, it's not just for the well-heeled: the XO laptop costs $199, so the two-machine purchase comes to under $400 (£268/€318) - not exactly bank-breaking, even in these hardened times.
The G1G1 programme is being facilitated by Amazon.com, though this time round it'll ship purchasers' XOs outside of the States. Buyers will be billed in their local currency, so let's hope the Pound falls no further against the Dollar. We understand, but have yet to confirm, that the laptops will be shipped locally too.
Amazon will start taking G1G1 orders on Monday, 17 November.
One Laptop Per Child XO laptop review