Sony Walkman NWZ-E436F music and video player
Budget iPod Nano beater
---
Review With the release of the A-series Walkman, Sony finally bid a probably less-than-fond farewell to its ATRAC and SonicStage past. Now with the release of the B-, E- and S-class Walkman players, Sony is fleshing out the range.
At the bottom of the pile sits the stick-style B series with either 1GB or 2GB of storage. Next comes the 4GB E, followed by the 8GB and 16GB S, and then the Bluetooth-enabled A line with a choice of 4, 8 or 16GB of storage.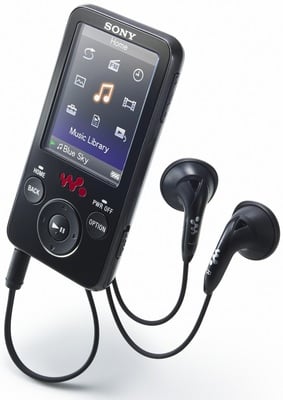 Sony's Walkman NWZ-E436F: Walkman 'nano', in other words
With Apple's iPod Nano heading upmarket – the cheapest model available direct from Apple is now the £109 8GB model – the £69 NWZ-E436F may just be the right player at the right time and at the right price to deliver Sony some serious budget video-player sales.
Design-wise, it's clear the E shares a blood line with the A. At 50g, it's 15g lighter than the A, and at 83.9 x 44 x 8.5mm, it's smaller and thinner too. That reduced size means a smaller screen size: 2in and 240 x 320, down from the 2.4in same resolution item on the A. Otherwise, it's a case of if it ain't broke, don't fix it.
The main controls below the screen are the now typical-for-Sony play/pause key surrounded by a four-way ring control to move up and down, back and forward. This cluster is flanked by Option - read 'menu' - and Back keys, respectively doubling-up for on/off and Home controls.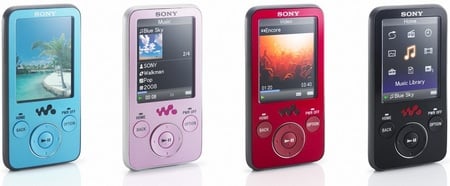 Not quite a Nano-like colour selection, though
The right side of the player is home to the volume rocker and the lock slider, while at the bottom you will find a 3.5mm headphones socket and a proprietary USB port - not a problem so long as you don't lose the cable. A tiny re-set button lurks around the back.