The Hubble space telescope has captured the first visible-light image of an exoplanet orbiting a star - a body no greater than three Jupiter masses, gravitationally-bound to Fomalhaut in the constellation Piscis Australis.
Dubbed Fomalhaut b, the planet lies at 10.7 billion miles from Fomalhaut and 1.8 billion miles inside the inner edge of a debris disk surrounding the star, described by NASA as "similar to the Kuiper Belt".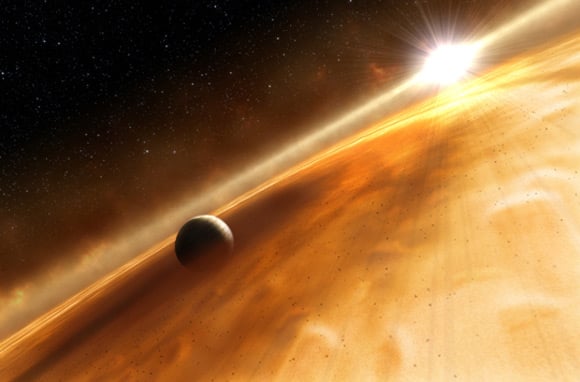 NASA's Infrared Astronomy Satellite, IRAS, spotted a mass of dust surrounding Fomalhaut back in the 1980s, since when scientists have considered it fertile ground for planet hunting.
In 2004, Hubble uncovered the doughnut-like debris disk within the star's dusty shroud. The disk was, Hubble astronomer Paul Kalas suggested, "being gravitationally modified by a planet lying between the star and the ring's inner edge".
Further evidence to support this theory came from the sharp inner edge of the ring, "consistent with the presence of a planet that gravitationally 'shepherds' ring particles".
The 2004 Hubble images contained a few bright points - possibly planets, the scientists proposed. Further images from Hubble's Advanced Camera for Surveys' coronagraph in 2006 showed that "one of the objects is moving through space with Fomalhaut but changed position relative to the ring since the 2004 exposure":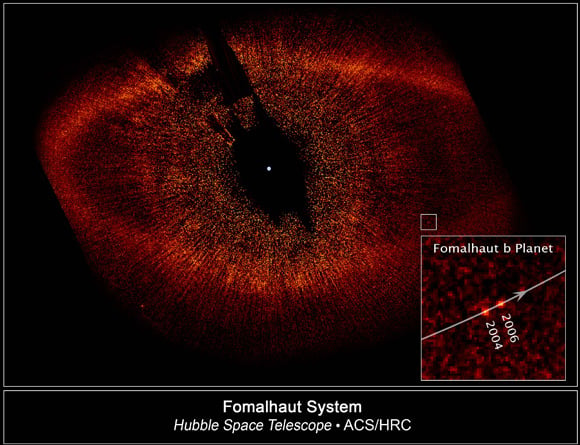 Hubble astronomer Paul Kalas, of the University of California at Berkeley, explained: "Our Hubble observations were incredibly demanding. Fomalhaut b is one billion times fainter than the star. We began this program in 2001, and our persistence finally paid off."
Team member Mark Clampin, of NASA's Goddard Space Flight Center, enthused: "Fomalhaut is the gift that keeps on giving. Following the unexpected discovery of its dust ring, we have now found an exoplanet at a location suggested by analysis of the dust ring's shape. The lesson for exoplanet hunters is 'follow the dust'."
NASA notes that Fomalhaut b is "brighter than expected for an object of three Jupiter masses" - possibly due to a "Saturn-like ring of ice and dust reflecting starlight". The agency adds: "The displacement between the two exposures corresponds to an 872-year-long orbit as calculated from Kepler's laws of planetary motion."
NASA consludes: "Future observations will attempt to see the planet in infrared light and will look for evidence of water vapor clouds in the atmosphere. This would yield clues to the evolution of a comparatively newborn 100-million-year-old planet. Astrometric measurements of the planet's orbit will provide enough precision to yield an accurate mass." ®
Similar topics
Broader topics