This article is more than 1 year old
Samsung ML-1630W wireless network mono laser printer
A great-looking printer that's quick and quiet
Review Laser printers aren't the most photogenic of kit and you'd usually want to relegate one to an office or workroom. Samsung has given its latest offering a makeover, though.
Mono laser printers may have been eclipsed in the home by inkjets, but they're faster and produce better black print. They're also pug-ugly, built for function not looks. Not so Samsung's ML-1630W, which it claims is "based on the design of a Steinway piano".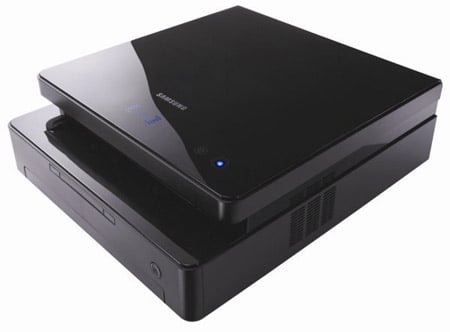 Samsung's ML-1630W: inspired by a piano, apparently
It does have a glossy black case, but that's black plastic, rather than polished wood, with all veneers for a single instrument taken from the same tree. But get past Samsung's enthusiasm, and this is still a special-looking printer, very little like a conventional laser. The glossy black case looks something like a record deck and is a similar size, with a step at the front... yes, all right, it's a bit like a piano keyboard.
The control panel consists of a 13 x 5 matrix of blue LEDs which shine through its upper surface. As well as some animated blue symbols, this matrix reproduces simple words, like 'open', when the case is opened and the number of pages being printed, in case you forget.
The big, blue lights are largely cosmetic and look out of place against the four, little, red-LED icons, which light up for important things like errors: low paper, low toner and paper jam. A separate, blue LED for power and another for wireless connection complete the set, and there's a touch-sensitive switch for standby. A second switch is ready to stop the current print job.