Review Has the discussion about what might be the 'iPhone killer' become irrelevant yet? Yes, the iPhone is a great multimedia device, but it's easily beaten in other, now traditional, phone feature categories.
It's horses for courses. So where is the device that can beat it at its own game - in other words, it's great screen and multimedia capabilities? HTC has consistently come close, but with the Touch HD, has it finally nailed its rival?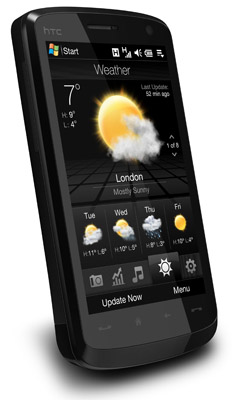 HTC's Touch HD: slim and smooth
For many iPhans, of course, the only thing that can possibly 'beat' the iPhone 3G is a new iPhone, and for them the Touch HD won't even be a contender. That's not to say that it doesn't have a darn good try. It has almost the same dimensions as the iPhone - it's 115 x 63 x 12mm - though it feels a bit chunkier, mainly because it's 14g heavier and has less-rounded edges.
Even so, the impression is of a slim and smooth device with a minimum of side-mounted features - just an outsized volume rocker on one side and the stylus slot on the other. The screen starts up automatically when you take the stylus out, and like HTC's Touch Diamond and Touch Pro it's magnetic and clicks satisfyingly into place when you're done.
At the bottom of the phone is a single USB 2.0 port, and on top is the large start/stop button and a 3.5mm socket for headphones. The rubber-plastic back would be more effective in preventing it slipping around when placed on a table except that the phone actually rests on the protruding glossy plastic boss at one end and the metallic surround of the camera lens at the other.
Similar topics