Unfortunately, HTC still has a few problems with imaging, not least the time it takes to get the camera up and running. There's no dedicated camera button, so finding the right app on the menu and accessing it takes about six seconds, which pretty much rules out quick snaps, as does the slow shutter action, which takes another four seconds.
There's an option to take a photo by either pressing and holding the shutter button on the screen or just by touching it - the shutter takes a while to operate, so you're better off with the latter. You can also set the focal point of the picture by pressing a point on the screen – so if you want the bottom left-hand corner to be the main point of focus rather than the centre, you can.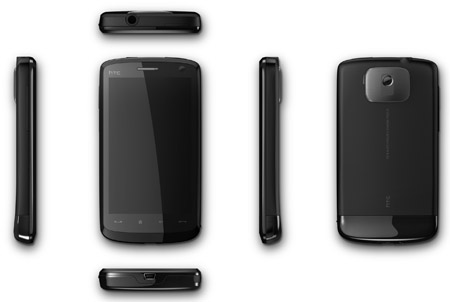 Almost the same dimensions as the iPhone, but it feels chunkier
The panorama feature is worth mentioning. You can set it up to take between three and six pics which it will stitch together into a panoramic view of up to 180°. Each time you take a pic you see a transparent view of it which you can superimpose over the subject to help you line up your next shot.
You can record video in either MPEG 4 or H.263 formats and the results are okay rather than great. There's a fair degree of lag when you move the screen around and fast movement tends to blur a little too easily. There's an option to upload your footage directly to YouTube, though.
Viewing pics in your album with an HTC Touch device is always fun, since you can zoom in or out by twirling your finger on the screen, and brush across to bring on the next pic. What's more, thanks to the extended screen acreage, is that if you twirl in a corner of your pic, the device will zoom into that corner and make it the centre of the image – very cool.
Sponsored: Ransomware has gone nuclear