A one-eyed woman has appealed for some gadget guidance to help her turn her artificial eye into a camcorder.
Tanya Vlach already wears a prosthetic eyeball, but she wants to know how best to turn it into a hi-tech peeper able to store video files, transmit wirelessly and snap still photos.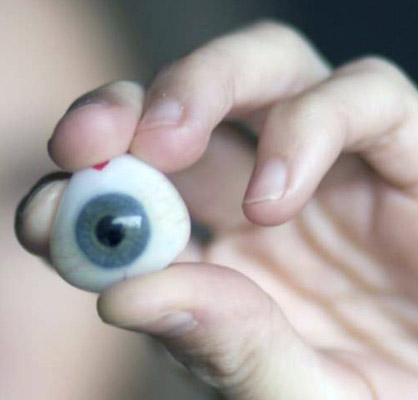 How can this gain camcorder capabilities?
In terms of recording capabilities, Vlach's opted for the MPEG 4 format and she hopes to have a Mini SD card slot inside it for cards of up to 4GB. It should also have a 3x zoom – optical, of course.
With these features in place, it's her vision that the eye will be able to record what she'd otherwise have seen naturally. Exactly why she wants this is a mystery, as she can still see perfectly well with her other, organic eye.
Nonetheless, once she's captured some content, Vlach wants the freedom to move it to a PC by Bluetooth, Firewire, USB or memory card. The eye would be powered with a wireless charger.
She admittedly doesn't have much knowledge about how all the required technology would fit together, but has suggested that the "installation" could be done whilst the prosthetic eye's being made or slotted in afterwards through a series of drill holes.
Several readers have already suggested ways that her hi-tech eye could be developed. For example, someone posted a message on her blog that advocated using a wireless camera from a toy RC helicopter. Another reader said: "There's no reason this can't be done. I'm already going over it in my head and it is completely within the realm of current off-the-shelf technology."
If you think you can help with Vlach's request then check out her blog.