This article is more than 1 year old
Nissan: buy our electric cars... rent our batteries
Cheaper in the long run?
'Leccy Tech In the future, we will still be buying our own cars but we'll be leasing the batteries. At least that's the vision of Nissan's Executive VP for Product Planning, Carlos Tavares.
Presumably the battery packs will be leased from Nissan, though as Renault-Nissan is the car maker most closely connected to Shai Agassi's Better Place, it may be case of buying the car from Nissan and leasing the power pack from a third-party such as BP.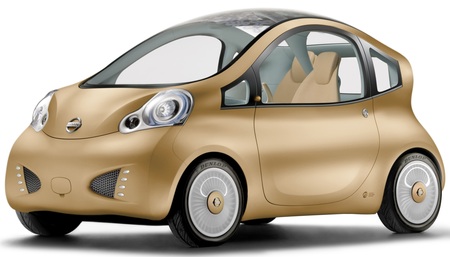 Nissan's Nuvu: batteries not included...
Speaking at the Automotive News Green Car Conference, Tavares also predicted a long-term shift to communal car ownership.
Nissan plans to have its first electric cars available in selected markets by 2010 and to roll out globally in 2012. Prices are expected to be on a par with the relevant petrol equivalents before adding in the cost of the battery pack.
Nissan's vision of the near-future electric city car is the Nuvu - 'New View' - a rather globular-looking spud of car with two-plus-one seating, fly-by-wire controls, a high use of natural and recyclable materials, including a floor made from wood fibres, and a 140Wh/kg laminated lithium-ion battery pack.
According to Nissan, laminated batteries deliver up 50 per cent more power than their non-laminated equivalents while at the same time taking up half the physical space, allowing them to be fitted under the seats, which benefits the interior space and lowers the vehicle's centre of gravity.
The interior of the Nuvu is apparently an urban oasis complete with an "energy tree" - a solar panel in the roof, to you and me.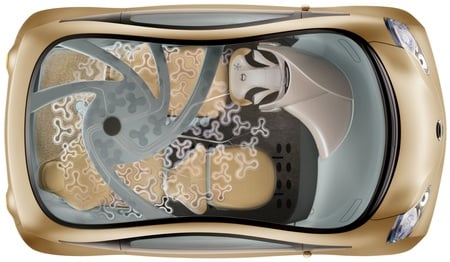 but a solar panel... er... 'energy tree' is
The Nuvu has a top speed of 120km/h and a range of 125km. Recharge from a 'quick charger' will be between ten and 20 minutes, or between three and four hours using a 220V home charger.
At the CEATEC show in Japan recently, another of the Nissan brains trust, this time Minoru Shinohara, Senior VP of Technology Development, announced that Nissan is looking into recharging electric cars wirelessly, though he didn't give any technical details of how Nissan think this could be accomplished.
Of more immediate and practical interest, Shinohara also said Nissan is "aiming for EV leadership, which means we need to cover the market... we need to prepare several vehicles." Roll on the 'leccy Micra, Qashqai and 350Z then.
Nissan Nuvu Photo Gallery
Nissan Nuvu Photo Gallery