This article is more than 1 year old
25 years of Macintosh - the Apple Computer report card
What Steve hath wrought (from A to F)
The worst public presentation ever given by a sentient being…
The No Steve era ended on January 7, 1997. That morning, in his keynote address at the then-biannual gathering of the Mac faithful, Macworld Expo, Amelio delivered what could generously and compassionately be described as the worst public presentation ever given by a sentient being. For two hours, Amelio's breathtaking imitation of a random phrase generator elicited only the sound of 2,000 attendees' jaws dropping onto the carpeted convention-ballroom floor.
Then Steve Jobs took the stage. Apple had recently acquired Steve's NeXT Software, and he was there to explain how it was going to save Apple. He did, and the crowd went wild. It had been eleven years since Jobs had been tossed onto the streets of Cupertino by Apple's board of directors, but he remained a hero to Mac enthusiasts, developers, and vendors. Amelio may not have known it that morning, but he had just made himself redundant.
Months of feints, fits, financial failures, and fractious fratricide followed, until in early July of 1997, Apple's board of directors suggested that Amelio might do well to fall on his sword. On July 9, Gil submitted his resignation. After two months of a little song, a little dance, and a little seltzer down the power-positioning pants, Steve Jobs became Interim CEO of Apple on September 16.
In short order, the OS-licensing program was strangled in its crib and the Newton MessagePad was assassinated. Apple also opened its own online store - a daring move in the 90s - based on the WebObjects software that it had acquired from NeXT Software along with the company's operating system and development environment, NEXTSTEP (aka NextStep, NeXTstep, and NeXTSTEP).
Steve then began the slow, painful, but ultimately wildly successful process of bringing Apple back from the brink of insolvency and transformed it into the consumer electronics juggernaut that it has since become - not a perfect juggernaut, mind you, but a resoundingly healthy one.
Steve I Era: B+
No Steve Era: D-
The 'Very Painful and Expensive Mistake'
So how well has Apple done since the second coming of His Steveness? Quite well indeed, quite well indeed. One simple and direct way of analyzing a company's health is simply by counting heads. As the daily media has drummed into our brains since the onset of the great worldwide financial meltdown of 2008: When a company is in trouble, heads roll.
So, check out Apple's employment numbers since 1998. Not only are they steadily rising, but these jobs are real, full-time positions, and not the part-time McJobs and temp support so popular among many non-union corporations.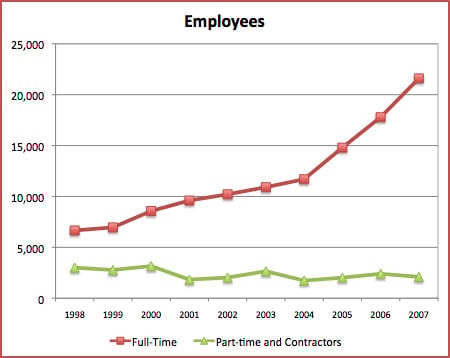 Apple heads
These new workers aren't all engineers, coders, corporate sales-folks, and support staff. On May 19, 2001, Apple opened its first bricks-and-mortar retail stores in McLean, Virginia and Glendale, California - a risk, by the way, that prompted BusinessWeek to give David Goldstein, president of Channel Marketing, a platform to predict "I give them two years before they're turning out the lights on a very painful and expensive mistake."
Six years later, Fortune declared Apple "America's best retailer" and on November 14th of this year, Apple opened its 250th retail store in Modesto, California. Swami Goldstein, by the way, is nowhere to be found.
Jobsian Head Growth: A