This article is more than 1 year old
25 years of Macintosh - the Apple Computer report card
What Steve hath wrought (from A to F)
The Apple Matterhorn
A second, and more traditional way to gauge a company's health is by examining its net sales and its net profits. In this chart, you can observe the slippage in Apple's net sales during the last few years of the No Steve era, and the parallel submersion of its net profits into negative territory: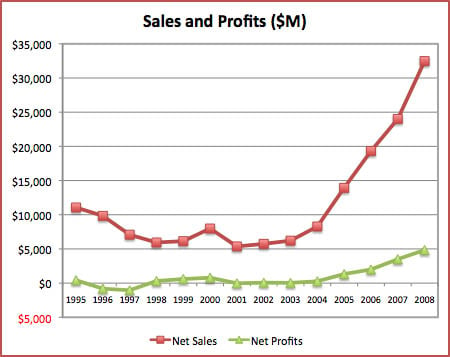 Apple dough
When the Steve II era began, both lines rose, only to be dope-slapped by the bursting of the Internet bubble in 2001, when art directors and Web developers stopped buying Power Macs and starting learning to say "Do you want fries with that?" in Spanish, Mandarin, and Hindi.
Since that dip, however, net sales have had a wild ride, with Apple raking in a cool $32.47bn in its just-ended 2008 fiscal year (which wrapped up on September 30). Net profits have experienced a healthy rise as well - but since much of the increased sales volume was of lower-margin products such as the ubiquitous iPod, the slope of the profit curve is less Matterhorny.
Jobsian Dough Growth: A-
The iPod Blankets Western World and Super Bowl
Speaking of the iPod, this next chart is a doozy. If you've ever wondered why just about everybody you see on your bus or subway commute route seems to have white wires hanging out of their ears, it's because just about everybody owns an iPod. Since these petite Walkman-killers were introduced as 2001 drew to a close, Apple has sold 174.1 million of them.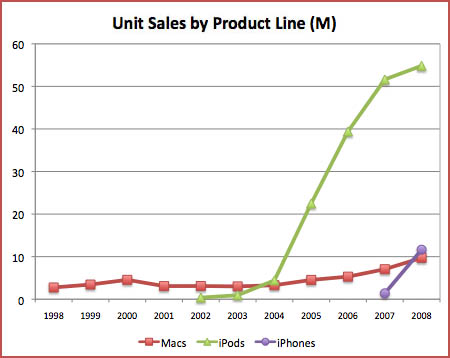 Apple stuffs
To put that number into perspective, enough iPods have been sold to provide a personal 'Pod to every man, woman, and child in the United Kingdom, Australia, the Netherlands, Greece, Israel, Sweden, Austria, Chile, Denmark, Ireland, Switzerland, New Zealand, and Greenland. And you'd still have enough leftover to give one to each fan attending Super Bowl XLIII eight days after the Mac turns 25.
You'll also notice that the iPod's phenomenal growth rate is flattening a bit. Don't sell your Apple stock just yet, however. Take a look instead at the streaking purple line in the lower right corner that charts iPhone sales. The Jesus Phone is one helluva popular Son of 'Pod. Apple recently reported that iPhone sales have passed sales of the former top phone, the Motorola RAZR. Although the iPhone has a long, long way to go before it reaches iPod territory - if, indeed, it ever does - early returns are impressive.
What's even more impressive to many analysts is the rise in Mac sales, which have nearly doubled since 2006. Although it's a safe bet that the Mac will never again have as high a market share as it did during the Steve I era, a doubling of unit sales in three years ain't exactly chopped fiscal liver, especially when the rest of the personal computer market is flat-lining.
Walkman-Killer Growth: A