This article is more than 1 year old
Championship Gaming Series runs out of quarters
'The concept was ahead of its time'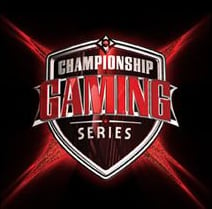 For two short seasons, The Championship Gaming Series tried to transform the sun-starved denizens of musty, Cheeto-dusted basements into glorious "e-sport" cultural icons.
The scheme of making video game playing a legitimate sport had its fair share of obstacles. For instance, there's some trouble in that watching a TV broadcast of other people playing video games only just beats chewing tinfoil. But throw in enough dramatic lighting and breathless commentating and you can call anything entertainment.
What finally killed the self-professed "first worldwide professional video game league" was its lack of profitability. Lamenting CGS was "an idea whose time came too early," the company announced it has lost its major media backers - BskyB, STAR, and DirectTV - and is closing its doors.
"Our goal was to be ahead of the curve in the e-sports space, and we conceived of CGS as a true sports league," the company announced today. "We invested wholeheartedly in the venture and presented viewers with a top-notch production, but the economics just didn't add up for us at this time."
CGS modeled itself after the US National Football League, complete with full-time team managers, qualifiers, and a player draft. The competition was broken into six regions: US/Canada, Latin America, Europe, Middle East/Africa/South Asia, China/East Asia, and Australia. Drafted players received a base salary of $30,000 with potential bonuses based on performance.
The league featured a handful of games during its two season run: Counter-Strike, FIFA 07, Dead or Alive 2, and Project Gotham Racing. The second season swapped the latter two for FIFA 08 and Forza Motorsport 2. Those noting CGS' distinct preference for Xbox 360 software in its console games selection can rest assured Microsoft was a major sponsor.
CGS also held a World of Warcraft arena match tournament this year, although the game wasn't a part of its regular season.
Despite several big name sponsors putting their money behind the league, the company said "it became increasingly clear as this ambitious project evolved, that profitability was too far in the future for us to sustain operations in the interim."
Costly events like hosting its inaugural draft at the Playboy Mansion in 2007, and its second draft at South by Southwest in Austin, Texas in 2008 couldn't have helped the company coffers either.
CGS even reportedly had plans of building a dedicated game playing arena and training center in the Chinese city of Wuhan.
The league's closest rival, the World Series of Video Games, also was forced to pull its plug back in 2007.
Is this the end of the "e-sports" craze? Perhaps the dingy LAN party and living room full of drunken friends is all the glitz and glamor video game tournaments need after all. ®