This article is more than 1 year old
Spacewalking astronaut drops toolbag
'Steve, can you lend me a grease gun?'
Space shuttle Endeavour mission specialist Heide Stefanyshyn-Piper yesterday dropped her toolbag as she and Steve Bowen worked outside the International Space Station, in the process consigning to oblivion "two grease guns, scrapers, several wipes and tethers and some tool caddies".
Bowen and Stefanyshyn-Piper exited the ISS at 18:09 GMT on the first of mission STS-126's four spacewalks, NASA reports. Having removed a depleted nitrogen tank outside the ISS and stowed it aboard Endeavour, they "moved a flex hose rotary coupler from the shuttle to the station stowage platform" and whipped off "some insulation blankets from the common berthing mechanism on the Kibo laboratory", they then got down to the main task in hand - servicing the station's starboard Solar Alpha Rotary Joint (SARJ).
Specifically, Bowen and Piper "worked to clean and lubricate part of the joint and to remove two of the joint's 12 trundle bearing assemblies". These have been playing up since September 2007, when metallic flakes were discovered inside the assemblies which have since prevented the solar arrays from swiveling to gain most benefit from the Sun.
However, NASA explains: "About halfway into the spacewalk, one of the grease guns that Piper was preparing to use on the SARJ released some Braycote grease into her crew lock bag, which is the tool bag the spacewalkers use during their activities. As she was cleaning the inside of the bag, it drifted away from her and toward the aft and starboard portion of the International Space Station."
A still from NASA TV captures the moment at which the bag made good its escape, as Piper tried to grab it with her left hand: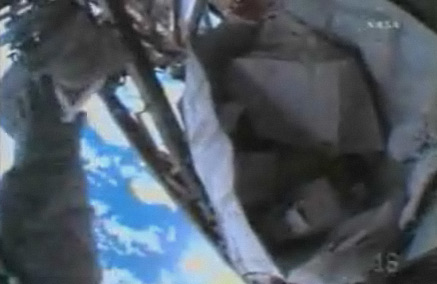 The agency adds: "Piper and Bowen spent the remainder of the spacewalk sharing a duplicate set of tools from the other crew lock bag they had with them."
The pair eventually ended their spacewalk at 01:01 GMT last night, having spent a total of six hours and 52 minutes outside the orbiting outpost. While they were grappling with the SARJ, Endeavour and Expedition 18 crew "worked to continue moving items out of the Leonardo Multipurpose Logistics Module (MPLM) that was docked with the station yesterday".
NASA concludes: "The crew is ahead of its transfer timeline and focused on moving two water recovery system (WRS) racks and one of the new sleep stations into the ISS. The transfer tasks will continue on throughout Endeavour's visit to the station, when the MPLM will be undocked and placed back into Endeavour's payload bay for return to Earth. Work will continue on the troublesome SARJ during the rest of the mission." ®