This article is more than 1 year old
Nikon Coolpix S710 compact camera
Ridiculously easy to use
Review The Coolpix S710 was one of four new compacts released by Nikon this autumn. It's the top-of-the-range model, so the person likely to buy this camera is someone looking for more than a basic compact but less than an entry-level DSLR. Will they be delighted or disappointed?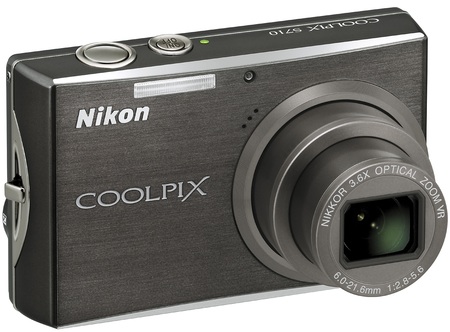 Nikon's Coolpix S710: clean and uncluttered
First impressions are good: the S710 looks very smart, with a brushed stainless steel body - plus a little plastic. It also feels light to hold yet is reassuringly solid. At the top are a large shutter button and small power button. Around the back is a nice large, 3in LCD which takes up roughly three quarters of the camera's back. To its right are the zoom rocker; Mode, playback, Menu and delete buttons; and a multi-control dial.
The result is a clean, uncluttered camera, but this often comes at the expense of having to navigate endless menus. However, Nikon has done a good job in this department.
At the bottom of the camera is a flap covering the battery compartment and memory card slot – the S710 takes both SD and SDHC cards, but also comes with a handy 42MB of internal memory.
In terms of size and weight, the S710 measures 92.5 x 57.5 x 24mm and weighs around 180g with battery and card. Alongside something like Sony's super-slim DSC-T77, the S710 looks like it ate all the pies, but it's nonetheless a highly pocketable camera.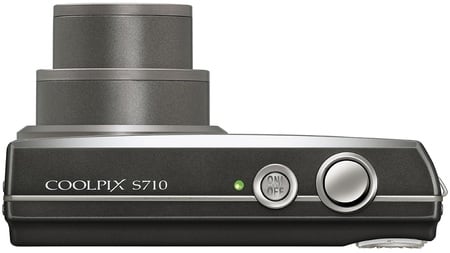 The optical zoom extends to 3.6x
When it comes to features, you get a 1/1.72in CCD with 14.5 million pixels (effective); an f/2.8-5.6, 3.6x optical zoom with a 6-21.6mm focal length equivalent to a 28-101mm lens on a 35mm camera; an electronic vibration reduction system; and a motion detection system which increases the shutter speed when the camera detects your subject is moving or the camera is shaking. Both of these last two features can be switched off and are automatically disabled in several shooting modes.