This article is more than 1 year old
Regulators back Bell Canada choking indie ISP traffic
Rented tubes should still be clear tubes
Canada's telecom regulators gave Bell Canada the OK to throttle peer-to-peer Internet traffic on pipes it leases to third-party ISPs.
The Canadian Radio-Television and Telecommunications Commission (CRTC) announced today that the country's largest Internet provider won't have to stop its P2P "traffic-shaping" practices on wholesale networks as long as it notifies customers 30 days in advance of making performance-affecting changes.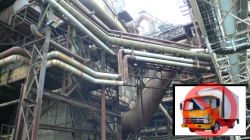 The Internet
"Based on the evidence before us, we found that the measures employed by Bell Canada to manage its network were not discriminatory," said CRTC chairman, Konrad von Finckenstein in a statement. "Bell Canada applied the same traffic-shaping practices to wholesale customers as it did to its own retail customers."
In a complaint in April, the Canadian Association of Internet Providers (CAIP) said Bell was throttling the Internet bandwidth it leases to smaller, independent ISPs without informing them.
Some of the indie ISPs allege it's an attempt to stifle competition by making their services just as slow as Bell's own retail Simpatico Internet service.
Bell argues that it's necessary to throttle customers who use P2P applications because they cause congestion on their networks. It applauded the decision not to intervene, and said it's good news for Internet users across Canada who "benefit from better managed networks."
CRTC, however, noted the decision considered only the specific grievances of Bell's wholesale traffic throttling, and will now launch proceedings to examine the greater issue of traffic management practices of Canadian ISPs.
The process will include a public hearing beginning July 6, 2009 in Gatineau, Quebec. CRTC said it will also try to establish criteria to be used in case it decides specific traffic management practices need to be authorized. ®