Formula One Kinetic Energy Recovery Systems (KERS) are becoming like London buses – nothing for weeks then two come along together.
Almost simultaneously, Bosch and Magneti Marelli have announced they will be supplying "off-the-shelf" KERS for the 2009 F1 Grand Prix season.
The Magneti Marelli system was initially shown to the F1 teams in September but it has just had its first public airing on the Marelli stand at the recent Professional MotorSport World Expo in Cologne, Germany.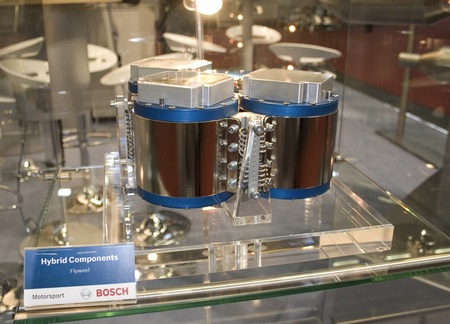 Bosch's KERS: can store up to 750kJ, say inventors
Apparently, Marelli has been working closely with one F1 team on the development of its KERS. The clever money reckons the team is Ferrari, which suggests the rumours that Ferrari was working with British company Zytec were nonsense.
Technically, the Marelli KERS is a fairly conventional battery-based system but with the battery pack itself coming from a third-party supplier, batteries apparently not being a strong point with the lads at Marelli due to the exotic chemistry involved.
Of more interest is the Bosch system – also unveiled at PMSW - which comes in a mix-and-match form with both battery and flywheel energy- storage options – the latter spinning in a vacuum at speeds of up to 160,000rpm.
The idea behind this modular approach is that systems can be quickly - and relatively cheaply - tailored to the differing needs of F1, DTM touring cars, La Mans endurance racers or even World Rally Car vehicles, all of which will have differing requirements for power storage, power release, component lifetime, size and cost.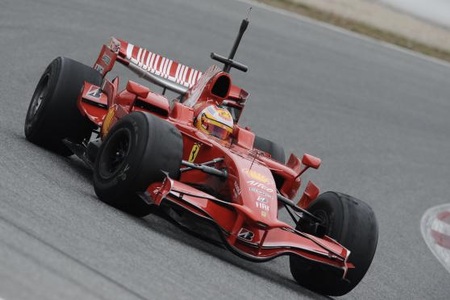 Ferrari's 2008/09 car, complete with KERS cooling duct
Though the Bosch system has yet to actually run in a car of any type, Klaus Böttcher, director of Bosch Motorsport, said the company is "already holding discussions with many teams from various racing series".
Unlike the other companies currently working on F1 KERS, Bosch and Magneti Marelli are already established suppliers of electronic systems to the consumer car industry so are rather better placed to come up with the real-world applications for the technology that, according to the FIA, are the whole point of the F1 KERS initiative.
Meanwhile, it looks as though cooling may be an issue with the F1 KERS if the bulbous ancillary cooling duct stuck on the right-side pod of the interim 2008/9 Ferrari seen testing in Barcelona earlier this week is anything to go by. Hopefully, a more elegant solution will be found before the 2009 season gets under way in Melbourne on 29 March.