Inside Microsoft's 'New Xbox Experience'
Look familiar?
---
Microsoft released the anticipated face-lift for its Xbox 360 game console and online service today, dubbed the New Xbox Experience (or NXE).
Along with a complete graphical revision, the update adds new features like customizable avatars, the ability to install games to the console's hard drive, and puts a much greater focus on the Xbox Live marketplace.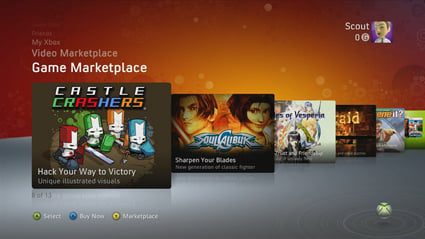 The new Live Marketplace
The new look (and especially the addition of user look-alike avatars) certainly invites comparisons with the simplistic GUI of the Nintendo Wii, which to be fair, apes its style in turn from Apple. There's also some similarities with the Sony PS3 dashboard - emphasizing the odd middle ground Microsoft has staked between Nintendo's broad appeal to casual gamers and Sony's draw to the hardcore.
Microsoft considers the update a "watershed moment" to hook the "next generation of Xbox owners" beyond its current install base of about 25 million. But whether its actually a cunning strategy or sign of an identity crisis for the console is up for debate among fans and critics.
It's certainly unusual to completely scrap a gaming console's interface midway through its lifecycle. Unprecedented may even be the word for it - although there's only really been two generations of game consoles with a substantial GUI to speak of.
Buy more, more easily
NXE creates a smoother, more "lightweight" look for the console. The change is clearly emphasizing Microsoft's ongoing strategy to make the game console more of a entertainment portal rather than simply a vehicle for games.
The problem with this is the nonchalant (or maybe shrewd) way Microsoft split up its user base. The first 360s included a tiny, 20GB hard drive or none at all. Gradually storage offered increased to a more respectable 120GB maximum. For early adopters, that doesn't leave a lot of room for downloading more content or installing games in addition to the usual game saves and system resources eating capacity.
That equates to a lot of owners sorely tempted to upgrade with a purchase of one of Microsoft's criminally marked-up Xbox 360 hard drives. If you haven't shopped around for prices, you may want to sit down. Microsoft charges $160 for a 120GB HDD. For what, in theory, is for the privilege of buying more things the Xbox Live Marketplace. If that weren't enough, NXE alone is over 100MB.
The update also adds an integrated ability to steam movies from Netflix - a feature that unfortunately is region locked outside the US. Picture quality generally seems better than what's offered elsewhere, but does fall short of true HD. Never-the-less, it's a nice feature to have.
By the way, Sony Pictures Entertainment is apparently not taking the high ground here: it's blocking licenses for its movies streamed over Netflix to the 360. Presently that will cause users to miss out on movies like We Own the Night and Superbad. Stay classy, Sony.
The ability to install games is a godsend (if HDD space is available). I'm convinced the Xbox 360 disk tray is powered by a leaf blower. Playing games without the raucous buzz of a spinning disk may even beat the slightly improved load times that comes with game installation. (It'll also generate less heat, the number one killer of 360s the world over.)
OK, so customizable avatars are a knock-off of Nintendo's Miis. That's pretty obvious. To some, the constant presence of avatars in the GUI will be an annoyance. Users however, do have the option of switching them off in favor of using their old gamerpic. That may lessen the blow to those foolish enough to spend actual money for use of a 64x64 jpg (this reporter included).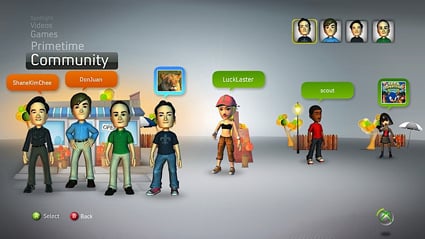 Avatars everywhere: point me to the Black Sun.
Avatar clothing is extremely limited at the moment. Microsoft said it will be adding new avatar options in theme packs in upcoming months, but didn't indicate whether users would have to pay for them. If history is indicator, that's probably a hell yes!
Aesthetics aside, the biggest complaint we're hearing is that the Dashboard friend list takes forever to scroll through with a sizable number of friends. Fortunately, users can simply press the guide button to view the list like it was before.
Love it or hate it, simplified and family-friendly is the direction Microsoft is taking the console. Nintendo is making too much money with the casual market for the Xbox team not to attempt a good deal of pandering.
But even if you hate the look, at least the new features should be enough to ease your pain.
The New Xbox Experience is available now as a free software update to all Xbox 360 owners with an internet connection. Let us know what you think about about the change. ®