This article is more than 1 year old
Logitech Squeezebox Boom wireless music player
Small box, very big sound
Review Logitech's Squeezebox Duet network music player doesn't really have any faults but if you absolutely had to come up with an Achilles' Heel it would be the need for an amplified stereo system for it to play through. Not an issue if you only want music in one room, but more of a problem if you want tunes all around the house.
Now Logitech has come up with a answer: the Squeezebox Boom, an all-in-one wireless music player that requires nothing more than a mains power socket.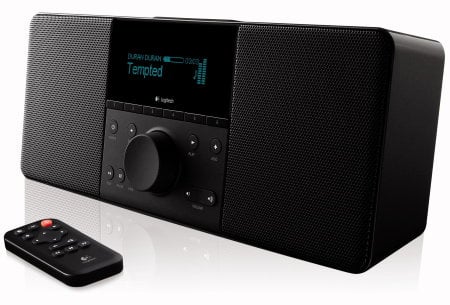 Logitech's Squeezebox Boom: small box, big sound
The first thing that struck us once the Boom was out of its box, was how small is is. At 330 x 127 x 79mm in size and weighing about 1.7kg, it was a fair bit smaller and lighter than we expected from looking at pictures of the device. Size notwithstanding, the Boom is a very nice looking bit of kit the only blemish on the smooth gloss black outer case being the rubberised panel and recess at the top that's designed to provide a slip-free niche for the remote and also covers the snooze touchpad.
The feeling of quality is carried over to the controls. The rubber faceplate buttons have a smooth feel to them and work with a well damped action, as does the turn-and-push central control knob, which doubles up as the menu navigation and volume control. If you can't wait for the big knob to default to the volume setting there's also a separate dedicated volume control.
The 160 x 32 pixel, 80 x 40mm green vacuum fluorescent display does an admirable job of keeping you informed about what's going on and makes menu navigation very straightforward. It also has a very effective auto-dimmer that goes all the way from retina-removing bright to barely visible dim so everything is legible in broad daylight but doesn't then light up your darkened bedroom with a ghastly green hue.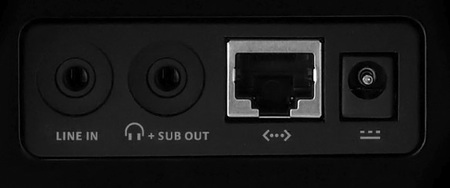 Connectors include networking, and audio in and out
Tucked away at the back, you'll find a 3.5mm audio in jack for an MP3 player or such, a similar size headphones/sub-woofer jack and an Ethernet port just in case the Boom decides it doesn't want to talk to your wireless router.