When it's folded flat, the S101's footprint measures a tiny 264 x 182mm. Height-wise, it starts at 18mm rising to 25mm at its highest point. Slip it in your bag and you'll hardly notice it's there, thanks to its lighter-than-MacBook-Air 1.06kg weight. Flip it over and you're just one screw turn away from easy access to the wireless card and memory bank, which are hidden away underneath a user accessible hatch.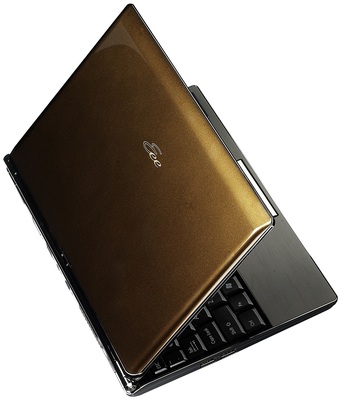 Not a netbook alternative but a notebook rival?
All good stuff, but we come back to the price. Apart from that hard drive benchmark, there's nothing to the S101's performance that lifts it above, say, the Asus Eee PC 1000 or the MSI Wind, both 10.2in netbooks too. The 1000 has a better battery life, but doesn't look as good. It's chunkier, too, and that's really what the S101 is all about svelte good looks.
Unless you're desperate for your netbook to reveal to the world you're particularly well-heeled, we can't see a solid reason to pay £449 for a netbook that's, give or take, no better than one that costs £369.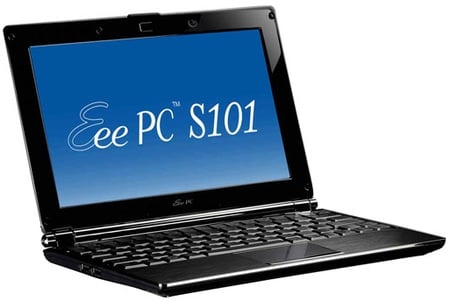 Nicely portable
But let's not dismiss folk willing to pay more for styling. Until very recently, they'd have had to fork out the best part of a grand for a slim'n'light laptop. Sony's new Vaio TT, for example, kicks off at £1399. By comparison, pricey though it might be for a netbook, the S101 is an complete bargain.
Verdict
There's no denying that the S101 is expensive compared to other SCCs - but when you compare it to small and light models from the big names it's an absolute steal. It also looks fantastic and if a 1024 x 600 screen is large enough for you to work on then it's an ideal travel companion. Throw in its glittering performance - especially when it comes to the hard drive - not to mention the massive 32GB of solid state storage and it's a very attractive proposition indeed.
Sponsored: Ransomware has gone nuclear

Asus Eee PC S101 luxury netbook
It may be the most expensive Eee yet but it's also the best equipped and nicest looking. If you've got the money to spend, it's one of the best currently available.