A US teenager has used a video sharing website to broadcast his suicide live across the internet.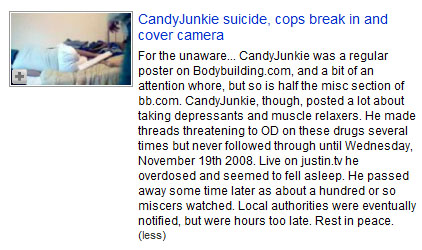 Justin.TV has already removed a copy of Biggs' suicide video
It's thought that up to 1500 people watched 19-year-old Abraham K Biggs, of Broward County, Florida, take an overdose on website Justin.tv, earlier this week.
Numerous online sources have reported that his broadcast – the copy of which has since been removed from the web – showed Biggs swallow a mixture of pills before becoming unconscious.
Anxious viewers called local police after Biggs' body lay lifeless on a bed for several hours. The broadcast also showed police and paramedics bursting into the troubled teen's room.
His death has since been confirmed by Broward County medical examiners, but a cause of death hasn't been made public.
Biggs, who was known by the pseudonym "CandyJunkie" on another website, is also thought to have used the internet as a way of building up to his death by posting a suicide note online.
Michael Seibel, CEO of Justin.tv, claimed in an email to The Times newspaper that his website has policies in place to "discourage the distribution of distressing content".
Perhaps he meant after the footage has been broadcast?