Sony Vaio TT slim'n'light laptop
Small form-factor, hefty price tag
Review Sony has been pitching small, slim laptops at executives for years now, packing in as much functionality into as compact a chassis as it can and charging a premium for it. Why mess with a successful formula? So the new Vaio TT doesn't.
There's clearly a market for this kind of machine, as the success of previous Sony thin'n'lights, Toshiba's Portégé R500 and Apple's MacBook Air shows. Credit crunch notwithstanding, there are still plenty of well-heeled executives willing pay extra for a laptop that doesn't weigh them down and looks the business.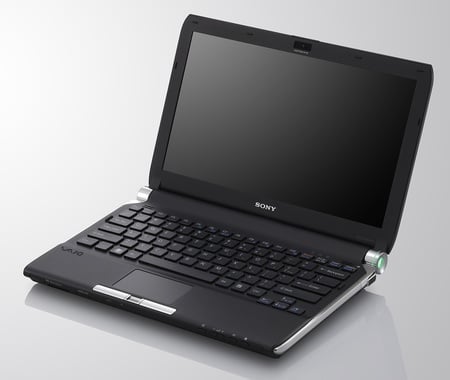 Sony's Vaio TT: looks the business
But the TT brings something more: the promise of phenomenal battery life, up to nine hours of mains-free runtime. OK, so that's not up there with the 19 hours Dell claims its Latitude E6400 can run for, but that's with a clip-on secondary battery pack. Dell says the E6400 will do ten hours otherwise, so given that the TT's rather smaller than the 14in E6400, it's clearly in the same league.
Design-wise, the TT is well ahead of the other machine - and of other notebooks in its thin'n'light class, particularly Toshiba's silver-painted plastic R500. The TT's exterior is kitted out in matte black, giving it a more business-like air than shiny, piano black laptops possess. Yet the sides of the machine sport chrome-like panels that alleviate what might otherwise be that overly pragmatic look that ThinkPads have.
The TT's design hinges about the back end - literally as well as figuratively - which is like a tube running the length of the machine and provides readily grippable contours that come in handy when you're carrying the machine. So light is the TT - just 1.3kg - that you will want to carry it rather that shove it in a backpack or briefcase.
The display is a petite 11.1in, and that determines the overall size of the machine: an eminently portable 199.8 x 279 x 23.5mm. Unlike smaller netbooks, it's still good to use without feeling you've compromised on the keyboard or the screen. Opening up the TT reveals the 1366 x 768 display and Sony's standard 'lozenge' keyboard.

Compact and easy to carry
The key array is a good 20mm narrower than the deck on the MacBook Air, but no less typist friendly for that. The keys don't have the Air's solid foundation, but there's not too much flex. Unless you're a very fast typist indeed, it's perfectly usable.