Sony Vaio TT slim'n'light laptop
Small form-factor, hefty price tag
Less so is the ALPS-made touchpad, which is as basic as these things get: tap-to-click and that's your lot beyond pointer pushing. There are no scroll zones or two-finger multi-touch scrolling, either of which we'd expect to see on a machine commanding the premium the TT does. You do get a fingerprint sensor, but then that's par for the course these days.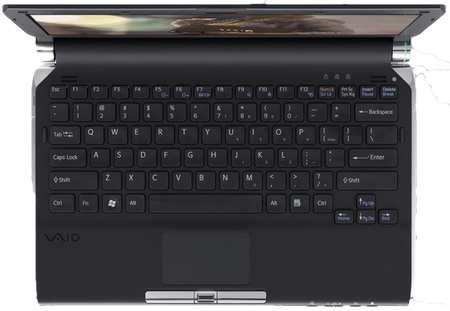 Smaller than standard keyboard - but still very usable
So too is a wireless switch, and you'll find that on the front of the TT alongside separate SDHC and MemoryStick memory card slots. To the right of the curved front panel you'll find mute and volume buttons, plus as user-definable button and a fourth to eject the optical drive tray.
Yes, unlike Apple's Air, the TT has a multi-format DVD writer on board, on the right side next to a VGA port. The left side is home to 3.5mm audio sockets, a pair of USB 2.0 ports, a four-pin Firewire connector, ExpressCard 34 slot and - beneath a cover - Ethernet and HDMI ports. Design seems the only reason for tucking these two away under a hatch.
The TT's small, 16V power brick connects to a port on the side of left-hand screen hinge - the power key's located at the opposite end of the laptop. The TT's lid is a scarily thin 4mm that's a bendy as the one on the Toshiba Portégé R500. Push the centre of the lid when closed, and the screen will touch the keys - how long before they start leaving marks? The hinges themselves had a degree of non-rotational movement, while the power connector was quite wobbly too.

The lid's only 4mm thick
All in all, we can't say we feel confident that the TT's display or its mounts will survive much punishment. You might think an executive's pricey laptop might not be likely to take as many knocks as, say, a student's shoved-in-a-backpack machine, but we know company directors - not our own - who've had machines knocked off desks because they were casually placed too close to the edge. So business bods' notebooks have to be no less tough a time that ones aimed at the rest of us.
The main body of the TT, though light, feels solid, so it's really the display that's the danger point. The lid on the Air, since we mentioned it earlier, isn't much thicker than the TT's but its metal shell makes it much more sturdy.