Sony Vaio TT slim'n'light laptop
Small form-factor, hefty price tag
Internally, Sony offers a range of the latest Core 2 Duo processors and chipset tech, all part of Intel's Centrino 2 array. We looked at the top-end TT11WN, which has a 1.2GHz SU9300 CPU with 3MB of L2 cache and an 800MHz frontside bus over which it connects to 4GB of 800MHz DDR 3 memory.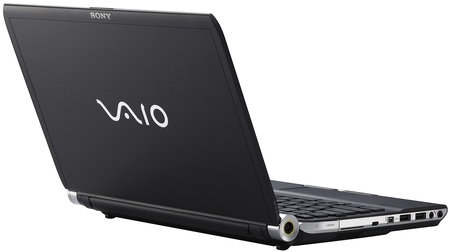 Carbon-fibre construction
The TT comes with Windows Vista Business, the 32-bit version, so 1GB of the memory may as well not be there so far as the OS is concerned. The on-board graphics are handled by the Intel GS45 chipset's own, integrated GMA 4500MHD GPU - which is why the TT's Windows Vista Experience rating is only 3.2 - the lowest score of the set, for desktop graphics. Gaming graphics rate 3.3, the CPU 4.4 and the memory 4.8 - the same score the 160GB, 5400rpm SATA hard drive gets.
We ran our customary PCMark05 test, this time with 3DMark06 too. The latter confirms that the TT is limited to casual gaming, scoring a mere 617 points at 1024 x 768, rather less than other integrated-graphics Centrino 2-based laptops we've looked at.
PCMark05 Results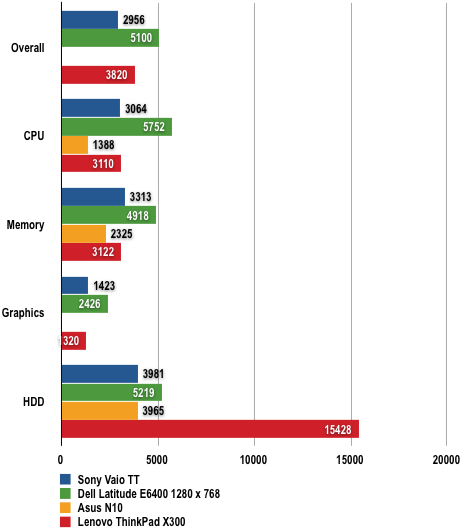 Longer bars are better
We've compared the TT's numbers to scores from a couple of recent machines and Lenovo's ThinkPad X300, which we reviewed back in February but has since been displaced at the top of the company's thin'n'light totem pole by the X301. Apart from the X300's astonishing HDD score - thanks to its top-spec solid-state drive - the TT has it beaten, but only just. It in turn is eclipsed by Dell's Centrino 2-based Latitude E6400.