Sony Vaio TT slim'n'light laptop
Small form-factor, hefty price tag
A more relevant comparison, perhaps, is with the Asus N10, a netbook that, like the TT, runs Windows Vista so is aimed at a similar audience as the one Sony's chasing. The two are matched on hard drive performance, but the Sony has the N10 licked elsewhere. Note that the N10's benchmarks are incomplete because PCMark05 won't run its graphics tests at the Asus' 1024 x 600 resolution.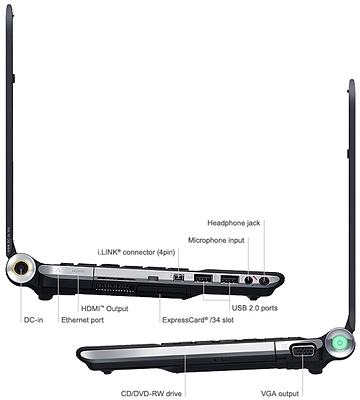 Fortunately, 3DMark06 tells you all you need to know. Think the TT's score was bad? At least the 617 it rated at 1024 x 768 was better than the 139 the N10 got at 1024 x 600.
Like the N10, the TT comes with 802.11n Wi-Fi and Bluetooth 2.1 on board, but the TT11WN variant adds 7.2Mb/s HSDPA and 2Mb/s HSUPA support courtesy of a built in 3G module from Option. Sony would like you to connect using T-Mobile, but we fitted our Vodafone SIM - the slot's hidden by the TT's battery - and were quickly up and running. We got a decent signal strength when we tried the HSDPA link out in North London, and there's no doubt having 3G built in is better than using a dongle.
Sony provides a nice utility, Vaio Smart Network, that allows you to disable individual radios - the Wireless switch on the front is an all-or-nothing affair - and the Ethernet port, which is turned off by default. This is all in the interests of conserving power, as is a Task Bar icon that'll power down the optical drive.
We used it during our battery test, which involves running PCMark05 continuously until the power's gone, though it continued to report that the drive was turned on. As usual, we had Wi-Fi and Bluetooth on, but disabled the HSDPA radio. We set the screen to maximum brightness after pulling the power cable auto-dimmed it.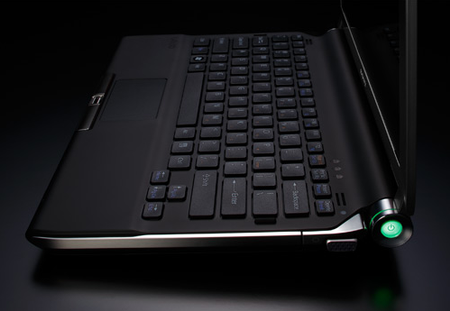 The design's defined by the 'tube'
The TT ran for just shy of four hours - three hours 55 minutes - which is rather better than the two-and-a-half hours we got out of the Dell Latitude E6400 in the same test. Our benchmark is a tough test that keeps the CPU, GPU and HDD doing rather more work than the usually would, so take it as a worst-case figure. Typically, you can almost double the time for ordinary workloads, which takes us to the best part of eight hours, and by dimming the display and turning off Wi-Fi and Bluetooth you could probably eke that out to nearly eight-and-a-half hours, which isn't so far off what Sony claims you'll get.