Sony Vaio TT slim'n'light laptop
Small form-factor, hefty price tag
So, Sony's largely delivered on battery life, and if the Vaio TT isn't one of the fastest Centrino 2 machines out there, it's certainly one of the most compact, most portable and well-connected. The problem is, it's also one of the most expensive.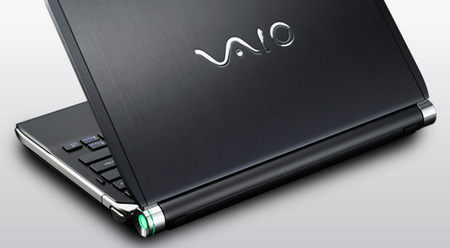 Slick design, expensively priced
The TT we looked at retails for a pound short of two grand, though you can pick up a lesser, HSDPA-less model for around £1399. Either way, that's a lot to pay for a laptop these days. Time was when Sony, Toshiba and others could get away with charging a packet for portability, but in the age of the netbook, it's a lot harder to make a case for demanding a lot more cash than a regular laptop for something smaller.
Asus' Eee PC S101, for instance, isn't as powerful as the TT, but its battery life isn't unworkably poor - as so many netbooks' battery runtimes are - and it's only £449, a third of the price of the entry-level TT. DSGi's Advent 4213 netbook is cheaper still - £350 - and is has built-in HSDPA. Both the S101 and the 4213 run Windows XP, so they'll crunch the same financial spreadsheets as the TT will, call up the same contact details and spell-check the same business proposal PowerPoints.
To be fair to Sony, it knows this, and it knows there are folk who'll turn their nose up at the cheaper machines and go for the expensive one because, first, nothing impresses a boardroom quite as much as a slick, black well-branded notebook and, second, because they can.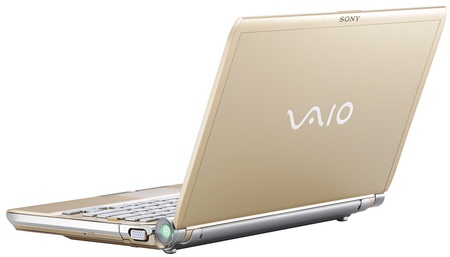 Also available in... er.. gold
Judging the TT on those terms, it's another success for Sony, despite the flimsy lid and hinges, the second-rate touchpad, and a screen that's has (just) too high a resolution for its size - we found ourself squinting - and shows too much colour dithering for the price.
Verdict
No question, the Vaio TT is a stunning machine: small, capable, supremely portable and very well connected. But you pay a lot for these benefits at a time when netbooks - even ones with on-board HSDPA - can do much the same job for a fraction of the cost. Yes, with less horsepower; yes, with a lot less battery life. But it's hard to argue with the saving you'd make over the expensive Sony.

Sony Vaio TT slim'n'light laptop
Undoubtedly, a gorgeous ultra-portable laptop, but our enthusiasm was dulled by the price and the flimsy display.