World hunts CherryPal cloud PC chimera
Have you seen the 2 watt mini machine?
---
People are beginning to wonder if Max Seybold's sandwich-sized wonder machine really exists.
The CherryPal CEO says his 2-watt thin client cloud PC finally shipped on November 4, after months of delays. But a chorus of CherryPal "Brand Angels" - Web 2.0 denizens enlisted to promote the product in the blogosphere - say they've yet to see any hardware.
"I know I'm not alone in suspecting that all the promises of shipments and funding up until now were a ruse - as far as I can tell, there's not a single CherryPal computer out in the wild yet, and I'm starting to doubt that there'll ever be," one Brand Angel says on a private social network the company may or may not have set up for these blog-happy reviewers.
Seybold has fashioned his Mountain View-based operation as a mashup of every buzzphase now gripping the minds of the worldwide digerati, from cloud computing to green tech to, yes, user generated content. Each Brand Angel was promised a free cloudy, green machine - and perhaps free stock options - in exchange for some online viral marketing. But the Brand Angel social network includes 106 members, and none say they've received a system.
In June, the CherryPal CEO told The Reg that his Freescale-powered mini-machine would outpace both your Vista desktop and your beloved Macintosh. And little more than a month later, the startup began taking pre-orders at $249 a pop, telling buyers that units would ship within a matter of days.
Seybold and company promised a 10.5-ounce box that moves "most of the software and data that traditionally sits on the desktop to the Internet." The unit would include a small solid state drive, but it would also tap into data and services sitting on Amazon's S3 cloud.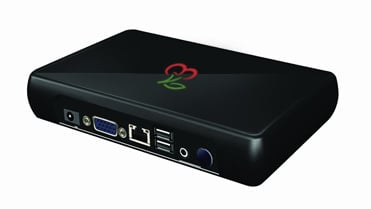 Have you seen me?
Then the company said a snafu involving its graphics hardware would push shipments back at least two weeks. Then two months passed. But Seybold insisted his mystery machine would finally make its debut on November 4, US election day.