This article is more than 1 year old
The Apple Armada - Still worthy of the Jolly Roger?
Steve gets his F
It's Not Easy Being Green
In October 2003, Greenpeace asked Apple for information about the company's use of toxic chemicals in its products and manufacturing processes. Apple didn't reply. It wasn't until August of 2004 that Apple and Greenpeace had their first meeting on Apple's chemicals policy.
Judging from that meeting's results - or, rather, the lack of results - the two sides were about as compatible as Joe the Plumber and Barack Obama. Steve Jobs's reported suggestion to Greenpeace protesters at Macworld Expo that they "get out of the computer business [and] go save some whales" was only marginally less tacky than the aforementioned Plumber's crack that Barack Obama "tap dance[d]...almost as good as Sammy Davis Jr."
More attempts at a meeting of the minds followed, but when Greenpeace introduced its first Guide to Greener Electronics ratings in August 2006, Apple garnered a dismal 2.7-out-of-10 rating, ranking it fourth from the bottom of 14 electronics companies.
Fast forward to October 14, 2008, when Apple introduced its new MacBook and MacBook Pro lines. Both not only earned the highest Electronic Product Environmental Assessment Tool (EPEAT) rating, Gold, but they also received praise from a Greenpeace spokesperson who was quoted by CNetas saying, "This is greener than what Apple has been putting out. It's welcome news and it is also in line with their commitment to phase out all PVC and BFRs from all their products by the end of the year."
That same day, Jobs released his "Apple 2008 Environmental Update." In response, Wood Turner, whose Climate Counts organization earlier this year ranked Apple dead last among a dozen top electronic companies in efforts to fight climate change, told The Reg: "Apple's long-awaited 2008 environmental update is a hopeful sign that the company may be poised to take a leadership role in the climate crisis. At ClimateCounts.org, we're glad to see the company finally coupling product innovation with substantive companywide action."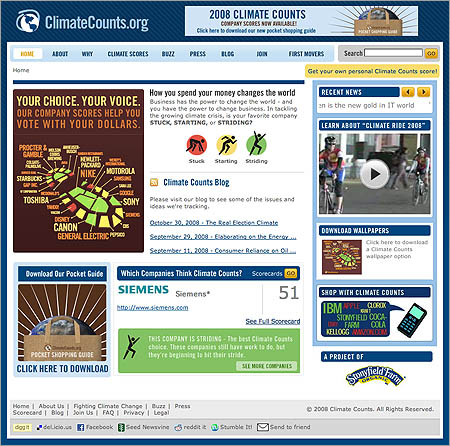 ClimateCounts.org
Forget the Tampa Bay Rays - Apple has engineered an even more impressive "worst to first" turnaround in regard to its environmental efforts. It's done so by focusing on four different areas:
Reducing its carbon footprint by studying and implementing improvements "from the earliest stages of product design through manufacturing to customer use and recycling," including publishing product line-specific environmental reports, available here .
Designing products to be constructed of non-toxic, environmentally friendly materials. With the help of its suppliers, Apple has already eliminated a host of heinous toxins such as lead and polychlorinated biphenyls (PCBs), and it's working to phase out the last nasty traces of polyvinyl chloride (PVC), brominated flame retardants (BFRs), and mercury. As a result, there may be fewer mutant ninja turtles, but we can live with that.
Reducing the power consumption of its product line by switching to such energy-saving technologies as LED-lit displays. Intel's fanatical effort to squeeze every watt until it cries "Uncle!" is helping in this effort, as well, along with the energy saved by creating smaller, lighter, smarter packaging.
Improving its recycling efforts - or, to use the latest industry buzzphrase, their "take-back programs." Apple now issues free shipping labels or packaging to recycle your old iPod or any manufacturer's cell phone (see here for details). They'll also recycle your old computer and display when you buy a new Mac, and its retail stores will cut you a 10 per cent discount on a new iPod if you bring in your old one for recycling.
One admittedly cynical caveat: You'll notice that many of Apple's discussions of its environmental efforts use squishy modifiers such as "studying," "working to...," "phasing out," and "improving." Nonetheless, although Apple hasn't gone fully green, the company's leadership appears to be taking environmental issues and global climate change seriously.
Environmental Efforts: A